Xbox's Starfield Controller and Headset Put You Right Into the Cockpit
You'll be better equipped to enter into the starfield.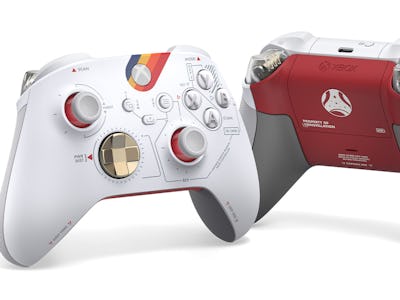 Xbox
Starfield may still be a few months out, but Xbox already wants to prep you for takeoff. Xbox and Bethesda partnered on a collaboration that customizes a controller and headset after its highly-anticipated RPG set in space.
Xbox does plenty of collabs on its controllers, but this one is stylized after Starfield's "Nasapunk" design language with aerospace lingo and sleek bronze detailing throughout the controller and headset. This is of course meant to build up hype for the imminent release of its space exploration title, set to debut on September 6.
BRONZE BUTTONS
Bethesda is known for its world-building and attention to detail, which Xbox has translated well onto a controller and headset. The controller's transparent triggers show off the interior bronze rumble motors, complemented by the D-pad that's clad in bronze. The Starfield controller has technical aerospace detailing all around its face and two-tone grips where the controller instructs you to "Grip Here." Like other Xbox wireless controllers, it gets 40 hours of battery life off two AA batteries.
You'll see a lot of similar technical aerospace styling on the Starfield headset, but the bronze detailing is found behind the ear cups and on the mic. You can bend the mic, which also lights up when the mic is hot. The headset's battery gives you up to 15 hours on a full charge. When you recharge the Starfield headset, it takes 30 minutes to get around four hours of battery life, but a full charge takes closer to three hours.
SPACE IS WAITING
Both the controller and headset are already available on the Xbox store. The controller, which goes for $79.99 is already sold out, but the more expensive headset, at $124.99, is still available.
Starfield may have been delayed from its original November 2022 release, but it seems that Bethesda will make good on the fall release later this year. In that case, you should have this limited-edition Xbox controller and headset well in time for Starfield's launch day. It may be an expensive cosmetic upgrade, but Starfield is a role-playing game, so why not get the tools to better play the role?