Xbox's Nail Polish-Inspired Gamepad Is a Pastel Masterpiece
Of all of Xbox's controller collabs, this one with OPI is among its most colorful options.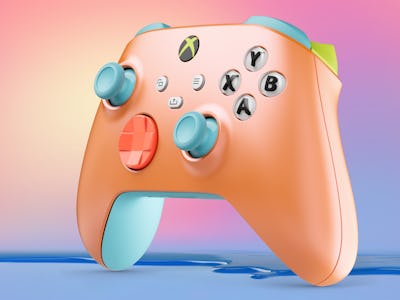 Xbox
If you're going to be inside playing Xbox during the summer, you should at least have the right vibes with your controller. For its latest special edition controller, Xbox reached out to a previous collaborator, the nail polish company OPI. True to form, the customized controller is blasted with pastel colors that are pulled straight from OPI's summer nail polish collection.
Limited edition Xbox controllers are fairly common nowadays and you can even customize your own with the Xbox Design Lab. Xbox does like to get experimental with its controllers though, going so far as to slap red and blue fur onto them for the sake of Sonic the Hedgehog.
It's the second time that Xbox has collaborated with OPI, previously working together on a Spring 2022 collection that saw 12 controllers get the nail polish treatment and also offered in-game content for Halo Infinite and Forza Horizon 5.
PASTEL PARTY
For this latest collaboration with OPI, the controller is decked in four different colors, all of which are based on OPI's Summer Makes the Rules collection. The case is colored in a shimmering orange called Sanding in Stilettos and the D-pad is painted in a glossy, deeper orange called Flex on the Beach. OPI went with its pastel blue called Surf Naked for its back case, bumpers, and thumbsticks, and OPI's Summer Monday-Fridays rounds out the controller with its bright green hue on the Xbox button and the triggers.
It's still a standard Xbox controller so it'll work with Xbox, PC, iOS and Android devices with 40 hours of battery life and a 3.5mm audio jack.
EXTRA COLOR UPCHARGE
It's up to you on whether the pastel colors are worth the $10 upcharge since the Sunkissed Vibes OPI controller costs $69.99. If you are sold on this colorful controller, they're up for preorder now and are expected to start shipping on May 9.
The OPI controller is available online at the Xbox website and Microsoft Store, but will also be available exclusively at Target for U.S. customers. It may be a little loud in design for some Xbox players, but it is nice to see some more colorful controller options in a world where gamer gear tends to lean towards black with some neon highlights.