Razer's BlackWidow V4 Pro is Overkill in the Best Way
The gaming brand's very best mechanical keyboard adds a knob, brings back the beloved macro keys, and ups the keystroke durability to 100 million.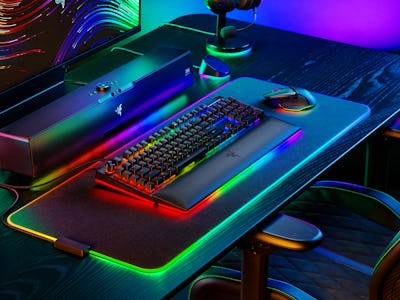 Worthy of its place at the top of the totem pole, Razer's BlackWidow V4 Pro mechanical keyboard for gaming is exactly what you'd expect: overkill in the best way possible.
Customizable in every direction
The $229.99 full-sized wired keyboard, launching February 16, is designed for seamless work and play. That's why Razer's added a metal knob (or "Command Dial" as it's officially called) and five macro keys (M1-M5) along the left side. The return of the macro keys is extremely welcome after Razer removed them from the BlackWidow V3 series. Over on the right above the number pad, there are four media keys (also programmable) and a roller button.
With Razer Synapse, the company's do-everything programming software, the BlackWidow V4 Pro can be customized in just about every way possible. Five built-in profiles let you swap between different layouts for work and play. All buttons including the Command Dial and macro keys can be mapped to functions within specific apps.
Keyboard specs
Esport geeks will surely appreciate every ounce of performance from the BlackWidow V4 Pro. Regular gamers like yours truly can only dream of taking advantage of the 8,000Hz polling rate. Doubleshot ABS keycaps mean they won't wear down when repeatedly WASD-ing like a maniac. And, of course, Chroma RGB underglow covers virtually every corner of the BlackWidow V4 Pro (38 zones in total, even in the magnetic leatherette wrist pad).
The keyboard top case is made of 5052 aluminum alloy; there's a PCB foam and bottom case foam inserts; underneath is a dual-step kickstand for two levels of height and angling; and lastly, there's a separate USB passthrough port.
100 million keystrokes
The typical mechanical keyboard switch is rated for around 50 million keystroke actuations. Razer says its bested the 80 million actuations its non-V4 Pro switches are capable of with newly tested green tactile and linear yellow switches that can last 100 million actuations. First one to put this claim to the test gets a prize!
Family of four
Including the BlackWidow V4 Pro, Razer's gaming keyboard lineup includes the Huntsman, Deathstalker, and Ornata. The BlackWidow V4 Pro sits at the very top with the largest available featureset.
At launch, only a full-sized version of the BlackWidow V4 has been announced. I asked about tenkeyless (TKL) or mini (65 percent layout) models, but Razer has nothing to announce so far. Considering the company has released variants of past BlackWidow keyboards, it's likely they might arrive in the future.