Xbox's New Carbon Black Series S Comes With 1TB of Storage
More storage than a PS5 for $50 less.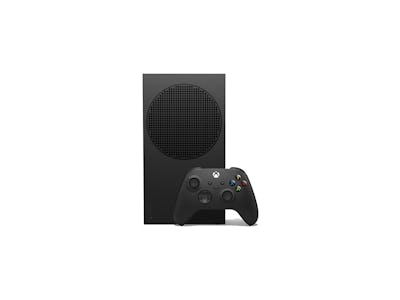 Xbox
In addition to sharing over 27 games at the Xbox Games Showcase yesterday, Microsoft also announced a new "Carbon Black" Xbox Series S with 1TB of storage coming September 1 for $349.99. The new model comes with a matching black Xbox controller.
The new colorway is the first time the console has been refreshed since it was released alongside the larger and more powerful Xbox Series X on November 20, 2020. For nearly three years, Microsoft has differentiated the Xbox Series S with its disc-less white and black design, 512GB of storage, and $299.99 price. Now, gamers can get a 1TB Xbox Series S for $200 less than the Xbox Series X.
The $299.99 white and black Xbox Series S isn't going away. Microsoft didn't announce a price drop, but if you ask us, it's not a great deal anymore when another $50 doubles the storage. And you do want the extra storage because digital games are only getting larger. You could always add more storage via a Seagate Expansion card, or with one of Western Digital's more affordable WD_BLACK C50 Expansion Card for Xbox ($79.99 for 500GB), but even those are not as good as the Carbon Black Xbox Series S.
The $349.99 Carbon Black Xbox Series S with 1TB SSD is also less than Sony's digital-only PlayStation 5, which starts at $399.99 and comes with 825GB of SSD.
1TB Xbox Series S vs. 1TB Xbox Series X
If you're new to the Xbox Series S and Series X, or maybe you're thinking of picking one up as a PlayStation 5 owner, there are a few differences you should know about.
Besides the obvious design and price differences, and that the Xbox Series S doesn't have a 4K Blu-ray optical drive, the lower-end console is less powerful. Both consoles share the same 8-core AMD Zen 2 CPU, but the Xbox Series S only has an AMD RDNA 2 GPU with four teraflops of performance compared to the Xbox Series X's 12 teraflops. More GPU performance translates not only to better graphics, but more realistic game simulations like physics.
With fewer teraflops, the Xbox Series S is limited to a maximum of 1440p resolution, not 4K as on the Xbox Series X.
On the plus side, the Series S draws less power: 65W versus 315W. That's a big deal, especially when studies show streaming Netflix on a game console uses way more power compared to other streaming devices.
Price, Pre-order, and Release Date
The Carbon Black Xbox Series S with 1TB SSD starts at $349.99. Pre-orders are now available at Microsoft's official online store with worldwide availability on September 1.