Unagi Model One Voyager Review: Would You Subscribe To Ride an E-Scooter?
Unagi's latest electric scooter, the Model One Voyager, combines convenience and a trusty companion app to make a compelling case for subscription-based electric two-wheelers.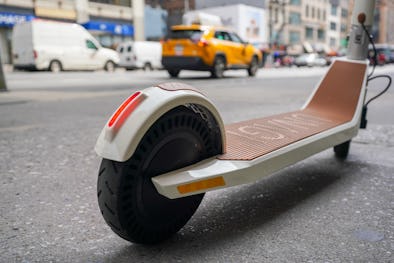 Photograph by Raymond Wong
How many subscriptions do you have? As an exercise, before writing this review — which I'm sure you're already aware is about an e-scooter — I attempted to tally mine. I got to eight, and stopped counting; not because it's not a worthy exercise, but because a part of me doesn't even want to know.
Unscientifically, I think if you were to ask most people whether they want or need more subscriptions in their life, the resounding response would be a big, loud, Netflix-addled, "Hell no."
Yet, it's 2023, and the people selling things to the people buying things beckon further: Is this a subscription? Will you, dear consumer, fork out monthly to watch House of Dragon? How about to get more matches on Hinge? Will you subscribe to have a chatbot not write your essays? Or to Photoshop the perfect new Fantasy Football avatar? How about to use the key fob on your brand-new Toyota?
And deep from within that subscription vortex, Unagi, an established purveyor of high-end electric scooters, offers its own proposition: How much money will you pay per month to ride a spiffy electric two-wheeler? I can't answer that question for you, but I can tell you this — riding Unagi's Model One Voyager will make you think twice about telling yet another monthly service to shove off.
Convenience Is King
As someone who's thought about and tested a few e-bikes and scooters already, I've identified some common obstacles (like in any product category) that tend to rear their annoying heads. For electric scooters, there are factors like range and speed of course, but also UX. Does the stem wobble? Is it easy to fold up and down? How does it handle bumps?
Unagi has taken a clear inventory of that spectrum of scooter gripes and identified, smartly, the common thread: convenience. In a press release, Unagi's CEO, David Hyman, whittled it down ever further: "With tens of thousands of active monthly scooter members on our platform, we've learned that our riders value portability over all other competing features..."
And, you know what? If portability was the goal, Unagi nailed it. Hyman is right, as an urban dweller with limited storage space (a demographic that likely describes a not-insignificant portion of e-scooter owners) I need a two-wheeler to be big enough to withstand the potholes crappy urban infrastructure throws at me in a form factor that allows me to manipulate and store my scooter when I'm not riding it.
A lot of that portability starts with both weight and an easily foldable stem. In the Model One Voyager's case, the latter factor involves simply pulling a lever near the stem's base up, folding the stem either up or down depending on whether you're collapsing it or setting it up, and then ensuring that it clicks into place automatically. That means you don't even have to clasp the stem to anything after it's folded, just articulate it to the right position and *click* it's locked in.
This sounds incredibly simple, maybe even boring, but I guess that's exactly what I'm trying to say. Collapsing the Model One Voyager is so easy it's almost mind-blowing.
Likewise, the riding experience is equally as smooth. A 12-25-mile range, solid acceleration, and 15-20 mph top speed fall squarely in the spectrum of most commuter scooters, and combine for a pleasant and functional experience.
The Model One Voyager comes with two 500W motors and can be ridden with either one or both activated. From an engineering standpoint, one of the most impressive feats of the Model One Voyager is that Unagi was able to double the scooter's max range compared to the Classic while still keeping it under 30 pounds.
Collapsing the Model One Voyager is so easy it's almost mind-blowing.
Aiding the Model One Voyager and its lightness is the scooter's magnesium top bar, which houses a pleasing interface from which riders can select ride modes, turn the scooter off or on, and get readouts for distance until the battery is dead. Magnesium is the key part here according to Unagi, since it's 33 percent lighter than aluminum.
Having ridden e-scooters across the spectrum — low-end rental scooters and terrifying fast performance scooters like the Apollo Ghost — I can say the Model One Voyager hits what I consider to be the Goldilocks zone (not too fast, not too slow).
For the Voyager One convenience comes before anything, even sometimes luxury. The scooter, like others in Unagi's lineup, comes equipped with solid tires as opposed to pneumatic air-filled ones. The downside is that sometimes bumps might feel a bit... bumpier. Air-filled counterparts just have a way of mitigating the inevitable shock of your neglected city infrastructure.
From a convenience standpoint, however, solid tires are hard to beat. Where I'd usually have to vigilantly scan the pavement for shards of glass threatening to ruin my ride, knowing there's no chance of a flat in my future definitely eased my mind. It's a tradeoff, for sure, but if convenience is still the top metric, then Unagi is speeding past its goal.
The Unagi App
While hardware always comes first in electric mobility, Unagi was clearly intent on making the Model One Voyager a Flagship (capital F intentional).
In this case, that means imbuing the electric scooter with a few app-based perks that — while not necessary to enjoying your scooter ride — definitely make Unagi's case for being top tier in terms of e-scooter tech.
Through Unagi's app, you're granted access to a few quality-of-life perks, chief among them, a first-of-its-kind battery life percentage and distance-until-dead readout that lets you gauge just how much juice your Voyager battery has left in the tank.
This really came in handy on my first ride through Brooklyn's Prospect Park when I'd excitedly taken the scooter out for a jaunt without charging it first. I knew I probably didn't have a cross-country road trip in the tank, but instead of scrutinizing an imprecise battery icon, I was able look at Unagi's app and glean just how much time I had until worrying about being able to scoot home.
Note: To ensure your distance-until-dead readout is accurate, Unagi recommends inputting your weight and average incline information manually into the app. By default, Unagi's average rider is set to 165 pounds, but everyone is different, and factors like incline and weight have a significant impact on how hard the scooter has to work to get you around.
In addition to more precise distance readings, Unagi's app also includes perks found in other e-mobility apps of its ilk, including the ability to set ride modes (dual or single motor riding depending on how much battery you want to conserve) and even a lock feature for extra security. This latter feature, when engaged, ensures that only your phone (when it's within Bluetooth distance) can turn the scooter on.
Would any rider in their right mind rely solely on the lock feature to guard their scooter while they're absent? I should hope not. But it's hard to argue with added security when it's offered.
Subscride
Unagi's Model One Voyager has all the bells and whistles; it's fun and functional, it looks great, and it's even got the Unagi pedigree to back it up. For all intents and purposes, Unagi's scooter is a great ride. But even with all of that in mind, Unagi's proposition is still a tough sell. It's one thing to ride, but would you subscride?
If I'm being honest with myself, subscribing monthly to an e-scooter doesn't feel like a bridge I'm willing to cross, but after spending some time with the Model One Voyager, glomming on yet another subscription to my growing docket of monthly bills did feel a little more palatable. Then again, there are the fees...
In addition to a $50 sign-up fee, Unagi is up-charging for an option to upgrade or replace your Model One Voyager at any point (an additional $10 per month). There's also mandatory theft insurance, which is charged as either $5 per month or a $300 one-time deposit. Considering $70 per month is already a big ask, I can only assume the fine-print fees won't help to endear most riders to the idea of leasing an e-scooter.
If there's a scooter out there that can justify paying $69 a month for, Unagi is still making its best case. And if you're looking to get your feet wet with an e-scooter, you can cancel your subscription at any time — plus, subscriptions are not a bad way to test the waters. And if you're more of a buy-the-whole-cow kind of rider, then you better be ready to pony up. To own the Model One Voyager outright you're going to have to pay $1,190. That's a lot of money, but in the world of e-mobility, premiums aren't hard to come by. New e-bikes from top-tier brands like Super73 and VanMoof, for example, can cost anywhere from $2,500 to $3,500. It's a big ask, even if those e-bikes are proper car replacements.
Which brings me to my next point: commuting. If you feel like you're going to use Unagi's latest, greatest scooter enough to qualify as either a partial or whole commuter scooter, maybe $70 a month isn't such a big ask. I don't know what your specific commuting expenses are, but maybe it's comparable, and maybe — just maybe — a subscription-based Model One Voyager can provide you with a more enjoyable way of commuting to and fro.
Either way you slice it, the Model One Voyager is a big ask — whether it's $70 per month (with fees) or nearly $1,200 outright. Then again, premium is premium, and if you're in the market for a convenient, fully-loaded e-scooter, Unagi is impossible to ignore.
Photographs by Raymond Wong