Why Artificial Intelligence Could Make Dating Better — And Duller
"I think in the long run, it'll become a mutually accepted social lie that we tell ourselves."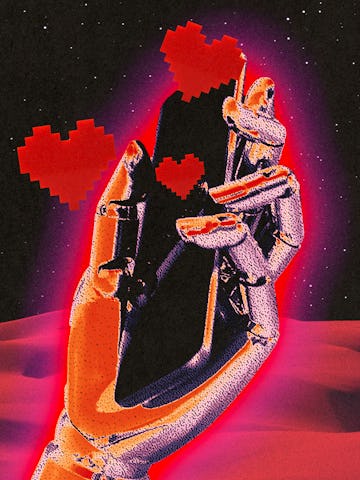 Dewey Saunders/Inverse; Getty Images
In the 1897 play "Cyrano de Bergerac," the titular character pens charming love letters in his friend Christian's name to win over a beautiful crush. A few centuries later, a cyborg Cyrano has a crack:
My love, I cannot keep my thoughts at bay,
Your beauty and grace, they light my way.
In every moment, I long to be near,
With you, my heart sings, forever, my dear.
Original? No. Charming? Sure. These are the lines ChatGPT served up when prompted to pen its own Cyrano-style love letter. Since its release in November 2022, the AI bot — a large language learning model produced by OpenAI — has been used to write poetry, answer existential questions about love and life, and even message users' Tinder matches. Just ask, and it can cook up poems, puns, and conversation openers for singles looking to mingle.
But can an AI do more than write scripts for the perfect first date conversation or suggest the best ways to break up with a romantic interest turned sour? In the not-so-distant future, daters could deploy bots as conversational middlemen — similar to how you may use spell-check to spruce up an email draft, according to S. Shyam Sundar, director of Penn State University's Center for Socially Responsible Artificial Intelligence.
"We've moved to a point where these kinds of assistive tools are becoming almost an expectation — we expect people to use them so that they turn in clean prose," he tells Inverse. "And even if it's a dating scenario, we want people to present themselves in the most positive light."
Beyond zhuzhing up our dialogue, machine-learning models could also make finding a match easier, safer, and more empowering. But it could also mean a duller dating life.
Computer Cupid
ChatGPT is the free, conversation-oriented spinoff from a language model called GPT-3.
Engineers at OpenAI created ChatGPT by feeding it massive amounts of text (around 300 billion words) and training it to complete specific goals, such as churning out passages of prose or responding to questions — capabilities known as generative AI, in that the bot accepts a prompt from the user and produces a piece of content.
"Generative AI has grown by leaps and bounds in the last five years," Sundar says.
To the advantage of lonely singles, generative AI could spice up conversations between two would-be love birds. It could also make more precise guesses as to what kind of person you might strike up a relationship with down the road than common dating services like Tinder and Match.com. These already use some machine-learning technology to help users find other lonely hearts, but new AIs present a leap forward from just profile matching. That's the idea behind AIMM, a match-making service that uses AI to get to know the user and introduce them to matches in much the same way as a human matchmaker might.
"It is kind of like a guided path," Kevin Teman, the creator of AIMM, tells Inverse. Unlike ChatGPT, which might be able to get a job as a relationship coach, he says, AIMM is "filled with matchmaker techniques and knowledge" to specifically introduce would-be couples and get them talking offline as fast as possible.
Teman was inspired to build AIMM after he sought the services of a human matchmaker — an overly expensive experience, he says. "The price was like $50,000 a year," he recalls. But the experience stuck with him.
"It was the hand-holding and the coaching," he says. "They would constantly call you on the phone and text you and give you advice on whether to proceed or not. And then there's all these awkward moments when you're dating or whether you don't know whether the person likes you or whether they're just busy or something. And the matchmaker completely alleviates that problem by telling you in a straightforward way whether they really are interested, or whether they're just, you know, really busy."
You can use AIMM for free in its current trial phase, but Teman plans to launch a subscription with a monthly price starting at about $80, he says.
"You start with people who need the most help building connections — the loneliest people. And those people are on dating apps."
AIMM collects troves of data from its users to do with their personal preferences and their lives, asking them hundreds of questions, according to Teman. The interrogation allows AIMM to effectively pair users, offer up date ideas, and help users decide whether they're hitting it off with a new boo (a challenge that afflicts many of us).
He says AIMM encourages singles to quickly hop on the phone with each other and move the conversation in-person — it then follows up and helps users make decisions on how to move forward from there.
AIMM has been around since 2017, but algorithms have dictated dating app experiences for more than a decade by carefully queuing up profiles based on factors like geographic location, interests, and even popularity.
For example, if you're an avid user, you may have noticed how Tinder now suggests conversation openers or rearranges images to highlight those that attract the most right swipes. (Match Group did not respond to Inverse's request for comment.) Other dating companies have incorporated algorithms to make their product safer — in 2019, Bumble released an AI tool that detects unsolicited nudes (available now for anyone to tinker with).
Generative AI — where the AI does the wooing for you — is still uncommon in these spaces, however.
But regardless of an app's built-in features, the accessibility and ease of use of free tools like ChatGPT or AIMM allow daters to take matters into their own hands. Previously, you had to be an experienced programmer to woo your online honey. Now, ChatGPT can write a love song in a disco style for you in seconds:
Verse 1:
I'm walking down the street, feeling oh so fine
The rhythm in my feet, and love on my mind
I see you, my heart skips a beat
You're the one I've been searching for, can't you see?
Chorus:
Together, we'll dance all night
Our love will shine, it'll feel so right
In each other's arms, we'll lose control
Baby, let's go, let's rock and roll
Other startups aim to automate flirting entirely.
These include Keys AI, the brainchild of Taylor Margot, a former corporate lawyer in California's Bay Area. Margot noticed that some of his coworkers lacked the skills to properly communicate with friends and family, so he created a virtual conversation coach incorporating GPT-3 that works as a phone keyboard add-on. To start off, he realized had to target a specific demographic.
"The answer is, you start with people who need the most help building connections — the loneliest people," Margot tells Inverse. "And those people are on dating apps."
You can pull up Keys AI on social media, dating apps, or any text-based chat and it will suggest messages for common scenarios like sparking conversations, rescheduling dates, and even kicking off a breakup.
You can also upload a conversation screenshot to the app for it to craft a response — which could come in handy during an awkward lull in conversation.
AI Rose By Any Other Name
Beyond facilitating smoother conversations, recent machine-learning advances could also make online dating safer. While Match Group and other big players have added AI-enabled safety features, some experts think apps could be doing more. That's the mission for Douglas Zytko, a human-computer interaction researcher at Oakland University in Michigan.
Zytko studies algorithms that could help protect users from sexual assault. For example, apps could promote discussions on consent, hide people's precise locations, or warn of potential violence based on conversation clues.
"In the long run, it'll become a mutually accepted social lie."
He's currently working on a National Science Foundation-funded project, for which he's asking people to "donate" data about sexual experiences. His team is using this information to train models to detect red flags in conversations. Ultimately, he'd like it if companies like Match Group incorporated his resulting models — but he has encountered "a lot of red tape around that."
And while AI currently reinforces racist stereotypes, it could also be harnessed to promote sensitivity among online daters. Apps could warn people that their drafts may be perceived as offensive to specific cultures — somewhat like Tinder's feature rolled out in 2021 that asks users whether they want to send a potentially harmful message.
"These language models can embody personas to some extent," Mina Lee, a Ph.D. student who researches human-AI interaction and language models at Stanford University, tells Inverse. "You can have a model have this kind of personality with this kind of cultural background and you could tell this person, 'Your message might be perceived in this way.'"
Dating disclosures
Computer-assisted romance comes with some pitfalls. For one, Lee and Teman point out that all of our chatbot-guided conversations could fall into similar patterns.
Since people often draw inspiration for their profiles and conversations from other users or online guides, apps can already feel monotonous — think: all the dog photos on Tinder. The nature of AI means that models move about like a snowball hurtling down a hill, quickly gathering information from users and sites around the internet.
"[People on dating apps] are all becoming so much like each other and AI is only going to accelerate that," Teman says.
Lee imagines chatbots "kind of homogenizing what people might talk about," she says. "It may look 'creative' in a sense that it's something new to you, but at a global scale it might be asking similar or the same questions to a lot of people, which I don't think we understand the impact of."
People may also misinterpret robot romance — particularly if apps or users don't clearly state whether they're incorporating AI into conversations or personal bios, Sundar says. For example, love poetry churned out by ChatGPT could mislead human users who may read too much between the bot-written lines.
When asked if AI could help someone find love by Inverse, ChatGPT replied:
"As an AI language model, I can assist individuals in many ways, but finding love is a complex and personal experience that is best left to the individual. While AI technology can be used to help individuals find potential partners through dating apps and websites, the process of building a meaningful and lasting relationship is ultimately a human experience that requires emotional and social intelligence, which AI does not possess."
Still, Sundar says his research has found that people may trust computer-generated content as much as human-generated content — as long as it's properly disclosed.
Disclosure can cut two ways: Our willingness to trust AI may encourage us to offer up increasingly intimate data to the companies behind the bots. Both Teman and Margot say their apps encrypt users' information, but that is no guarantee that information will not find its way into bad actors' — or just advertisers' — hands.
That's the conundrum: These algorithms need lots of personal information to work well, but the details you offer up to potential mates can be highly revealing. Dating apps and websites already have a reputation for spreading users' information and tend to be vulnerable to major hacks.
Despite all of the unknowns, Sundar, for his part, thinks we don't really need to know whether a human or robot wrote our sweet nothings.
"It's going to become such a normal part of our communications — the involvement of AI — that it may not be necessary for us to come out and specifically disclose," he says.
"I think in the long run, it'll become a mutually accepted social lie that we tell ourselves."
In The Future of Love, Inverse dives deep into the cutting edge science of pleasure, sex, and human connection — whether in virtual reality, the real world, or even space. Read the entire collection here.