Tesla's First India-Made EV Could Cost Less Than $25,000
A report from The Times of India says Tesla is in talks with the Indian government to open a factory for its $25,000 EV.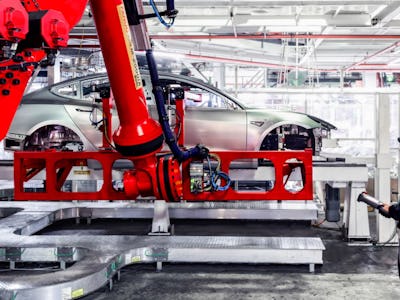 Tesla
Tesla may be finally entering the Indian market with its EVs, following years of back-and-forth attempts. According to a report from The Times of India, Tesla is in talks with the Indian government to build a factory that would produce a rumored affordable EV.
Tesla has confirmed that it was working on a smaller EV that's targeting a $25,000 price tag, which is rumored to be called the Model 2 and be announced in 2024. While the potential Model 2 hasn't seen any momentum yet, Tesla's plans with India seemingly line up and could be a real move towards a more affordable Tesla.
ENTRY-LEVEL MODEL
There still aren't any specs about the rumored Model 2 and the report doesn't uncover any details about Tesla's cheaper model. However, Tesla CEO Elon Musk previously said that this smaller vehicle would be roughly half the production cost of the Model 3 and be used "almost entirely in autonomous mode."
Musk also previously said that Tesla would have a presence in India "as soon as humanly possible," following a meeting with India's prime minister Narendra Modi in New York. But Tesla's intent to enter the Indian market dates back all the way to 2017. As for the potential factory in India, the report notes that it could handle as many as 500,000 EVs produced in a year and be priced at around 2 million Indian rupees, or around $24,000.
FACING COMPETITION IN CHINA
It's unclear if and when Tesla makes the announcement for a factory in India since it's not the first time Tesla has tried. However, the report also notes that Tesla could have India become its base for exporting its EVs throughout the Indo-Pacific region. If that's the case, Tesla could add some serious fuel to its plans to grow in the Asian EV market.
Tesla already has a significant presence in China after opening its Gigafactory in Shanghai in 2019, which produced its millionth EV in August 2022. However, the American EV maker is facing heated price wars from EV makers local to China, including competition from BYD, Nio, and Zeekr.