Tesla's New Model 3 Could Double Down on Yoke Steering and RGB Lighting
Rumors say that Tesla will be adding a steer-by-wire system for its Model 3 refresh.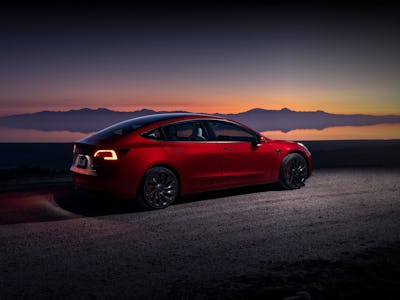 Tesla
The Tesla steering yoke may not be going anywhere. According to a recent report from Teslascope, a refreshed Model 3 could feature a steering wheel or yoke powered by a steer-by-wire system.
According to Teslascope details about the new Model 3 come from "conversations…with at least a dozen employees across various roles within the company" about the Model 3 refresh that's codenamed Project Highland.
MAJOR MODEL 3 REDESIGN
Teslascope claims that Project Highland will be a "complete overhaul" of the current Model 3. The refresh is expected to update the exterior, but the real upgrades will be seen in the interior that's made to better align with the Model S and Model X. Most importantly, Tesla may be introducing steer-by-wire yoke and steering wheel options for the refreshed Model 3. There could be some truth to the rumor as Tesla recently filed a patent for a new steer-by-wire system.
For Tesla, the yoke has been an ongoing controversy due to potential safety concerns. Tesla still offers the yoke as a $250 upgrade, but the design would be greatly improved if it used a steer-by-wire system, as we saw with Lexus RZ450e.
As for the rest of the refreshed Model 3's interior, the rumors claim that there will be matrix LEDs on all trims, RGB ambient lighting, and an upgraded speaker system. In terms of safety upgrades, the upcoming Model 3 may get a new bumper camera and the addition of the letter R being displayed in mirrors when reversing. The rumors also detail that the refreshed Model 3 could include Tesla's latest self-driving computer, Hardware 4.0.
Teslascope is also claiming that Tesla will upgrade the seats for better rider comfort and reduced vibrations while using recycled materials for its interiors and offering minor parts and repairs for cheaper. Teslascope did mention some items that it wasn't fully sure of, including a "rear screen" that Tesla has been experimenting with and the addition of a slimmer version of the Model Y's HEPA filter.
UNDETERMINED RELEASE DATE
Even more vague, Teslascope doesn't have a solid idea of when the refreshed Model 3 is expected to release with its sources saying anything from one to three months from now to the first quarter of 2024. While there seem to be a ton of upgrades for the new Model 3, Teslascope says the price is going to be similar to the current generation Model 3.
Beyond the Model 3, Teslascope also says Tesla is planning a minor refresh of both the Model S and Model X, which will happen within the next two months. However, for those looking into getting a Model 3, it may be worth staying patient to see the concrete details of the refresh.