A Perfect Storm of 3 Tech Breakthroughs Is Making Windows PCs Exciting Again
Apple might be kicking butt and taking names with M-series chips, but Windows PCs are poised to have a very interesting 2024.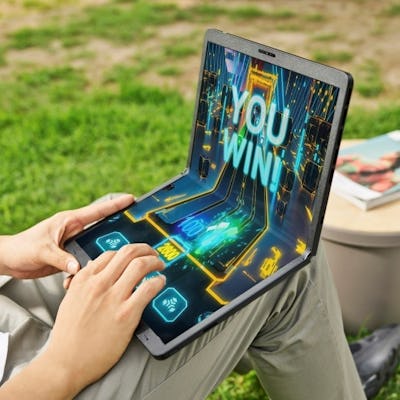 LG
It's telling that the main comparison point Apple made between its new M3-powered MacBook Pros and iMacs, other than Intel systems, was the M1. Obviously, year-over-year CPU and GPU improvements are incremental, and scooping up lagging Intel users is still a goal. But more than that, the headstart the company got converting customers to its custom silicon was so successful that now its main game is getting them to upgrade more regularly.
The speed and power efficiency of Apple's new M-series Macs revolutionized the company's original product line (based on recent lackluster earnings, the PC buying craze of the early pandemic helped too), but the gap between Windows PCs and Macs could be closing soon.
Windows laptops are poised for a revolution thanks to a triple threat of chip improvements, new exciting form factors, and Microsoft's deepening commitment to AI, and just about everyone, from curious laptop buyers to the devoted Apple faithful could stand to benefit from it.
Chips, chips, chips
A winning strategy of the M-series chips was adopting the Arm-based architecture of smartphones (the M1 was specifically based on the iPhone 12's A14 Bionic chip) to transfer the power efficiency of the iPhone to a larger form factor.
Qualcomm's been developing Arm chips for PCs for a while now, but it's confident enough in its new Snapdragon X Elite platform that it's claiming the chips surpass Apple's. Based on materials Qualcomm shared with press, the Snapdragon X Elite has "50 percent faster peak multi-thread performance than M2." It's also supposedly two times faster than its Intel competition (perhaps less surprising), and features a dedicated neural processing unit for AI, just like Apple's chips.
And the Snapdragon X Elite might not be the only Arm-based chip powering Windows laptops in the next few years. Both Nvidia and AMD are looking to create Arm chips of their own, according to Reuters. Part of a program of sorts from Microsoft to more directly compete with Apple. AMD already makes its Ryzen chips for Windows machines and is a popular alternative to Intel, and Nvidia is one of the go-to GPU manufacturers for gamers and developers, alike. Either company creating CPUs designed to work with the growing list of AI features in Windows wouldn't be unfounded, but it could radically change the PC laptop landscape.
That is, if Windows itself catches up.
Windows on Arm, and AI
Historically, Microsoft and its partners haven't had the easiest job getting Windows running on Arm-powered devices. The Surface Pro X was a beautiful disaster, and even the newest Surface Pro 9 running Qualcomm's SQ3 chip has a hard time emulating older Windows apps on Arm (in comparison, I reviewed the Intel version and loved it). Those issues should hopefully be ironed out by Microsoft, and will gradually go away on its own if more machines shift to Arm chips, but it's still not a small problem.
Luckily for Microsoft, Windows has otherwise gone through a real creative reinvention in the last year. Yes, Windows 11 still looks like Windows 11, which is to say Windows, save for some welcome reorganizing and aesthetic cleanup. But Microsoft's push into artificial intelligence (and pivot away from the metaverse) could end up changing a lot of the ways people interact with their computers daily.
The company's new AI assistant, Copilot, whether it's living inside Windows or specific productivity apps in Microsoft 365, changes how we look for information, adjust settings, and create things. You have to remember to use it (and in the case of Microsoft 365, have an employer willing to pay for it) but it's clearly the start of something big in Windows. A change that will likely lead to even bigger changes in future updates.
Folding screens and other form factors
The other thing working in favor of Windows laptops? Manufacturers have been going hog wild exploring different form factors. Primarily that's been various types of folding displays, the current laptop style that's all the rage, but stranger examples exist. Lenovo introduced the dual-screen Yoga Book 9i at CES earlier this year and a laptop with a color E Ink display on the cover. We're just at the beginning of a second age of weird laptops.
And it makes sense Windows PCs would be such fertile ground for experimentation — that largely describes Microsoft's own approach to its hardware. The Surface was weird when it launched. The opinion at the time — at least as I remember it — was that Microsoft was chasing the iPad, and ineffectively at that. But the tablet, kickstand, and detachable keyboard combo has matured into an class-leading computer under Microsoft's watch, and Apple ended up more or less copying its basic premise twice over with various iPads and accessories. Microsoft has continued to iterate on its hardware in interesting ways, like the Surface Laptop Studio 2, but there is one gray cloud in what's otherwise a pretty blue sky.
Panos Panay, the chief product officer in charge of the Surface line and Microsoft's larger "Windows and Devices" division, left for Amazon in September. Possibly due to issues with Microsoft's cuts to his hardware division and the company's focus on AI, Insider reports. Whatever the actual reason, without Panay at the helm, there's a sense that the adventurous days of Surface hardware are over. That doesn't mean other manufacturers won't pick up the slack, but it's disappointing all the same.
Competition is heating up
I'm not overly devoted to the idea that fairer, more equal competition solves everything about the current PC marketplace (or capitalism in general) but if the stars do align for Windows PCs like it seems like they might in the next two years, there's real reason to think that choosing between a Windows machine or Mac is going to become a lot harder than it used to be, especially if performance, battery life, and build quality are your main concerns.
That's not just good for anyone already deep inside Microsoft's ecosystem whether for work or pleasure, that's good for Mac users too. As of late, Apple has been surprisingly reactive to the changing tides of computer trends, and ahead of the curve in the widespread adoption of Arm-based custom silicon. If Windows laptops suddenly get that much more competitive, I have to imagine Macs will get better in response.