Tech
Microsoft Surface Pro X review: a very confusing computer
Who is this for? Why does this exist? Should you buy it?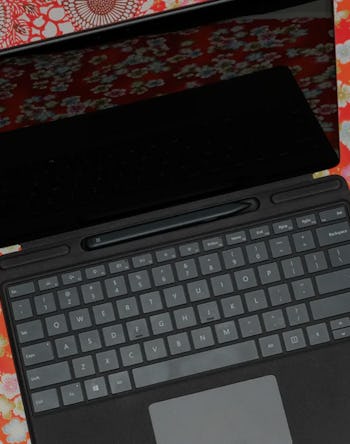 When I first got the Surface Pro X to review, I had a real Computer Fantasy. I was going to be That Guy. The guy with the Surface Pro X. The guy who didn't need any other gear.
I would dash from meeting to meeting, onto a plane, into my hotel room, back out the next day with only this elegant black sliver of a PC in my hands. I would be more productive, less encumbered, infinitely capable, and rarely in need of a charge.
Then I tried to install Dropbox.
What is the Surface Pro X? — I won't waste time here debating Windows 10 versus Mac OS or Linux or OS/2 or whatever cool operating system you use to impress your friends. The Surface Pro X (or SPX, which I will be using in this review because typing the full name over and over seems silly to me), is a Windows 10 computer. Kind of. If you're looking for a Windows PC, this is one. If you don't like Windows or don't use it, this is not a computer you will buy.
I say "kind of" because this actually isn't a Windows 10 PC. It's an ARM-based PC running a version of Windows 10 that isn't totally regular Windows 10, which seems like it shouldn't matter, but it actually does quite a bit. Although it provides longer battery life and more consistent features like "instant on," it isn't fully compatible with the x86 universe of Windows software, drivers, and accessories. Which is why if you want to use Dropbox the way you do on a normal PC on your SPX, you're out of luck. You can get a neutered version from the Microsoft Store, but it's really just a glorified file browser. And you'll be out of luck for a whole bunch of stuff. Microsoft even has a support page detailing the issues you'll run into.
If you're a power user who expects Windows to do whatever you want it to do, this simply is not a computer you should even consider buying. The SPX is not a full-featured Windows laptop. It's a mostly-featured Windows laptop that really wants you to stick to Microsoft apps. And that can be fine, but it's annoying too. Want to run Adobe Creative Cloud apps like Photoshop? You can't right now (though the company says versions are in the works). For many users, that software is the baseline — so this will not be their machine of choice. In the way that the iPad asks you to compromise on certain features for other advantages (battery life, a gesture-based interface, cool games you never play, etc.), the SPX wants you to accept the tradeoffs because it provides other advantages. And it does have a few. Very few.
It's extremely good looking — The SPX is a beautiful piece of hardware engineering. The all-black hybrid is considerably thinner than the new Surface Pro 7, and has a narrowly-bezeled 13-inch PixelSense display with 2,880 x 1,920 resolution that looks fantastic.
The backside features a kickstand that can put the device in almost any position — including almost laying flat — but I will say the edges are so sharp that I think one of them gave me a cut on my thumb. The device pairs with a springy, full-size keyboard cover coated in Alcantara (a fuzzy, suede-like material) that cleverly hides the new Slim Pen stylus inside. Typing feels great, though the keys have slightly less travel than a typical Surface Pro keyboard cover. The trackpad is a bit small for my taste, but it works flawlessly, which is still surprising for a Windows trackpad in 2019. The whole package looks and works like a laptop from the future; folding and reconfiguring with few hardware trade-offs.
If you don't want the keyboard/stylus combo cover, Microsoft offers a standalone keyboard cover and stylus, but it will cost you more and makes far less sense.
From a design standpoint, the SPX is just cool. If Apple released anything this clever — the secret stylus, the clean lines, the mixture of materials, the myriad use cases — people would lose their minds. I wasn't sold on the original Surface concept, but now it's exactly what I want my next computer to be.
The guts — The setup I tested had a 3GHz SQ1 ARM-based CPU (the only option for the processor), 16GB of RAM, and 256GB of SSD storage. Coupled with the new keyboard and stylus combo, the price tag is just shy of $1,800 — an enormous expense for what you're actually getting. The SPX has two USB-C ports, a SIM slot for LTE service, and a proprietary, removable SSD… a nice feature that is relatively unusual for a laptop of this type (although a simple microSD slot would be cheaper and make a lot more sense). It has two cameras: a 10-megapixel sensor on the rear and a 5-megapixel front-facing webcam, which lets you unlock the SPX using Windows Hello face sign-in (it works, it's nice).
The SPX is not a fast computer. It's not slow, but it feels sluggish at times. Chrome, in particular, seems to shred both the processor and battery. You can use the more optimized Microsoft Edge option, but Chrome is most likely your browser of choice and changing your entire workflow to conserve battery or boost scrolling performance is not very practical. Compared to a similarly priced standard Surface Pro with an Intel Core i5 or i7 processor, or a MacBook Pro, the SPX is noticeably less springy and less sensitive to your actions; it's a few milliseconds slower to respond when you want something. The SPX seems to be treading water just fine, but don't ask it to dive. And more than once I got pinged with a "memory full" message using Paint 3D (with only five other applications open), even though the SPX has 16GB of RAM.
Chrome, in particular, seems to shred both the processor and battery.
The battery life is all around better than a typical laptop, though I didn't get the mythical 13 hours the company promises. I could easily get through a solid 10-hour workday of pretty heavy usage before needing to recharge. Not totally transformative, but pretty great.
Pen input is unsurprisingly fluid and feels very lag-free. The new Slim Pen is still plenty big even though it hides in the keyboard, and using it to annotate or draw felt incredibly natural.
So who is this for again? — The Surface Pro X is truly a confusing product. From a hardware and design perspective, it offers several new, desirable ideas. Its hybrid nature makes it useful in lots of different settings, it's extremely thin, you can use it pretty much anywhere thanks to LTE, and it has a myriad set of input options that all work great. But the ARM version of Windows 10 is limited, and there's no getting around it.
Microsoft tried this once before with Windows RT and it failed spectacularly; if you're going to make a Windows PC, it needs to work like a Windows PC, not a cut-rate version at twice the price. Hell, you can get Photoshop on an iPad right now, but not this device. And even if the software was at complete parity with Windows 10, performance is still sluggish compared to an entry-level MacBook Air or much cheaper Windows laptop. Battery life is excellent, but this is a lot to pay (and a lot to give up) for a few more hours without a charge. And that's probably the most important point: the Surface Pro X is expensive. Too expensive for what it offers.
There may be some diehard Surface stans that just need to have their hands on the newest, sleekest member of the family, but for the rest of the world, you can probably sit this one out.