Foldable Screens are Making Laptops Interesting Again
Foldable tech is taking over laptops, just like it did with smartphones.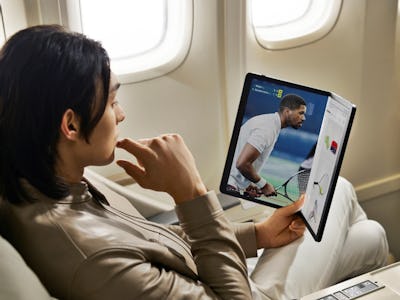 LG
Foldable displays have earned a cult following in smartphone design, giving us a more functional and fun alternative to the ever-popular glass bricks. Given their popularity, It was only a matter of time before the technology made it to laptops, giving us something different from the traditional clamshell.
On that front, LG just announced its first foldable laptop, the Gram Fold, which comes just a couple of weeks after HP threw its hat into the ring with the Spectre Foldable PC. This foldable laptop design isn't brand new, but the recent surge feels like the start of a big shift in design language.
BRIEF HISTORY
Before foldable laptops were a thing, companies were experimenting with how to innovate on the traditional clamshell laptop design. We first saw touchscreens integrated into laptops more than a decade ago, but that would eventually evolve into 360-degree laptops that could rotate completely on their hinges. The 360-degree design suited the touchscreen more since it could be propped up in a tent shape to use as a tablet, but also be used as a traditional clamshell laptop.
Eventually, we saw the 360-degree design evolve into the convertible laptop as we see with the Microsoft Surface laptops that can bounce fluidly between being a clamshell laptop and a tablet. With foldable laptops, we're just seeing the next step since they have all the convertibility of previous designs while adding more screen space.
FIRST FOLDABLE LAPTOP
LG isn't the first to introduce a foldable laptop to the market, and neither is HP. The first foldable laptop accolade goes to Lenovo's ThinkPad X1 Fold which was introduced in 2020. Even though it was under its business-oriented ThinkPad label, the wild design appealed to people looking for a device that could morph and match multiple uses. Asus eventually followed up this design with its ZenBook 17 Fold OLED.
Now, we have LG and HP's recent entries into the foldable laptop space, signaling that other major laptop makers are interested in this style. Considering how new this technology is and the wild price tags we're seeing, we don't expect foldable laptops to catch on immediately. The latest LG Gram Fold will be sold exclusively in Korea for around five million Korean won, or around $3,700, and the HP Spectre Foldable PC starts at $5,000.
All that said, a traditional clamshell laptop will still get the job done for most people. For those interested in some extra flexibility with their laptop, foldable displays are clearly the way to go. With display technology getting better and better and major laptop makers signing onto the trend, we're bound to see more options beyond LG's Gram Fold.