Mercedes-Benz's Superscreen Will Bring TikTok and Zoom to E-Class EVs
Don't worry, there are safety measures put in place to prevent distracted driving.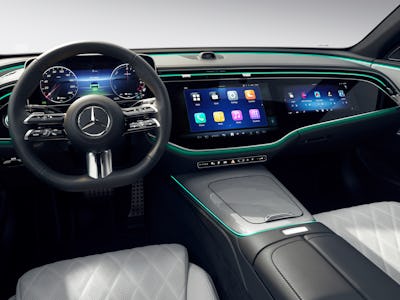 Mercedes-Benz
As if we don't spend enough time on TikTok already. Mercedes-Benz is introducing TikTok and Zoom onto the 2024 model of its E-Class series. Before we get all riled about how dangerous this could be, Mercedes-Benz is planning to include several safety measures that should prevent distracted driving.
The option to coordinate Zoom meetings is already available through Apple's CarPlay, but Mercedes-Benz's plan is to integrate Zoom and TikTok directly into the E-Class's entertainment system. You won't be able to use either app while on the go since the E-Class will disable image transmission if you're driving. Even if the passenger is using either app, their screen won't be visible to the driver.
It's obvious Mercedes-Benz has considered all of these scenarios, but the question still remains if we actually need to be watching TikTok or doing a Zoom call while on the road.
SLEEK SUPERSCREEN
These apps are all going to be incorporated through Mercedes-Benz's Superscreen display that connects the central touchscreen with the display in front of the passenger seat. It's not quite the impressive Hyperscreen display that we saw with the EQS, but it's still a sleek all-glass design.
The 2024 E-Class's entertainment program actually lets you install third-party apps onto it, instead of having to route apps through CarPlay or Android Auto. Mercedes-Benz says the first apps available this way on the E-Class will be TikTok, Zoom, Webex, the Vivaldi browser, and for some reason, Angry Birds. There's also going to be an optional Zync entertainment portal that offers video streaming, on-demand content, sports, news, games, and other ways to keep you from getting bored during the drive.
MEETINGS ON THE GO
For those using in-car Zoom or Webex meetings, the E-Class uses a new selfie and video camera on top of its dashboard. You can only participate in video calls when the car is stationary, though. Mercedes-Benz also includes another safety feature where the E-Class's camera system will check if the driver is looking over at your passenger's screen and activate a visual shield function preventing the driver from seeing the screen.
We understand the extra functionality that the Zoom app integration offers, particularly for the professional that's on the road and needs to take a business meeting at a moment's notice. On the flip side, Mercedes-Benz also wants to indulge you in mindless distraction where you can endlessly scroll TikTok or play a bird-flinging game that came out in 2009.
OTHER UPDATES
Having Zoom and TikTok integration may be the main draw for some buyers, but the latest E-Class will also have a bunch of features that appeal to the rest of us. Mercedes-Benz threw in ambient lighting, a Burmester 4D surround sound system with 17 speakers, and AI capabilities that can predict certain routines like turning on heated seating at a specific time. Mercedes-Benz also updated its voice assistant feature where you don't have to say "Hey Mercedes" anymore and can just start asking away once you see the red microphone symbol when you activate the "Just Talk" function.
It's hard to tell how useful these apps will be on the latest E-Class, but we'll get to see it in action once it hits U.S. dealerships later this year.