This Steam Deck-Like Handheld PC Has Detachable Controllers Just Like a Switch
The right controller even stands upright to work like a mouse for more precision in games.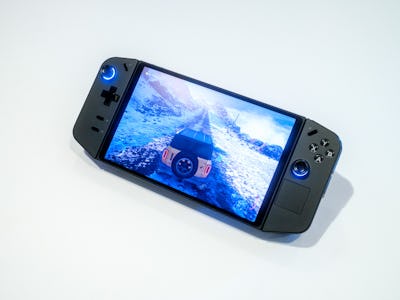 Photograph by Raymond Wong
Name a hotter product category right now than handheld PCs. Valve's Steam Deck blew open the doors for these "portable" game systems and now Lenovo is releasing its own version called the Legion Go in October starting at $699.99.
Unlike the Steam Deck, Asus' ROG Ally, or the endless Ayaneo handheld PCs, the Legion Go borrows an idea from the Nintendo Switch: its controllers detach like Joy-Cons and there's a built-in kickstand. There's even a magnetic base that lets you use the right controller upright like a mouse.
A few weeks back, I got to try out the Legion Go for a few minutes, and even though the device I used wasn't final hardware, I walked away impressed with what Lenovo is promising.
Bulkier Than Other Handheld PCs
There's no hiding the fact that the Legion Go is a chonky boy. But that's okay because it means there are decent grips to the controllers, which you'll want for handling the 8.8-inch (2,560 x 1,600) IPS display over extended periods, and a "liquid crystal polymer 79-blade fan" for cooling the AMD Ryzen Z1 Extreme chip with AMD RDNA GPU.
Under the hood, specs for the Legion Go include Windows 11, 16GB of 7500MHz LPDDR5X, 256GB / 512GB / 1TB of PCIe 4.0 NVMe M.2 2242 storage, and a two-cell 49.2WHr battery (a 65WHr USB-C adapter is included).
The controllers detach with a push of the button and a downward tug. Between the two, there's the standard D-pad, ABXY buttons, shoulder buttons, six programmable back grip buttons, a touchpad, and twin hall effect joysticks (these are the kind that don't drift). They feel good attached and detached; I could see myself using them for long sessions with minimal hand cramps, unlike Joy-Cons.
The screen is LCD with a max of 500 nits of brightness and has a 144Hz refresh rate, faster than the 120Hz screen on the ROG Ally, and 60Hz refresh rate on the Steam Deck.
The Legion Go has tons of ports, too. On the top, there's a headphone jack, a USB-C port that does data, display, and power, and a microSD card slot. On the bottom, there's another USB-C port capable of the same functions as the top one.
And, thankfully, the built-in kickstand extends across the entire back and angles pretty far downward. Viewing angles look great on the IPS display.
Comfortable Play
Lenovo had a few units loaded with some Steam games and Xbox Game Pass just to give journalists a sense of what titles would look like and how they would play with the controllers. Forza Horizon 5 and Hi-Fi Rush looked great on the display and controls worked well.
A few things were clearly still a work in progress: Lenovo Space, the app for managing all your games wasn't available; some games didn't work properly; the mouse-ish mode with the right controller was kind of wonky. I was really hoping to try out Halo with this mode. Hopefully, these things will get sorted out by launch.
I also briefly got to try out the Legion Glasses — $329 video glasses that can project a 1080p display in front of your eyes. They work like the Xreal Air. Hard to say how good the shipping product will be, though, because the demo unit had some choppiness. Some games had terrible lag; others played smoothly.
On the bright side, the handheld PC will come with three months of Xbox Game Pass Ultimate.
Starts at $699, But...
The $699 starting price is for the 256GB model, but a Lenovo rep tells me that it hopes to bring a more affordable version with less storage and a less powerful chip. That would be wise because although the ROG Ally has a smaller 7-inch 1080p display with 120Hz display, the same $699 gets you 512GB of storage, and a $599 model with a non-Extreme AMD Ryzen Z1 and 512GB of storage is coming soon.
I liked what I saw with the Lenovo Legion Go. Borrowing the detaching controllers and kickstand from the Nintendo Switch is a good idea. But will it be the very best handheld PC of the year? We'll need to get our hands on one for a review to know that.