This Steam Deck Competitor Packs the Largest Battery in Any Handheld PC
That doesn't necessarily mean the longest battery life though.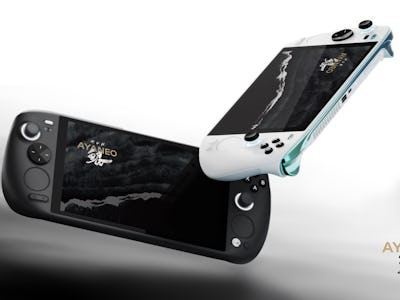 Ayaneo
After a summer of anticipation, Ayaneo's just launched its 8.4-inch "Kun" Windows handheld, revealing the complete specs for it, including a huge battery. The Ayaneo Kun may be hitting the upper limits of what we call portable, but it does beat out the Steam Deck on screen size and performance.
The Ayaneo Kun launch comes a few months after the company announced refreshes of its other models with the Ayaneo 2S and Ayaneo Geek 1S. Ayaneo has been churning out handhelds, much like other companies who want to offer some competition to the Steam Deck.
THREE HOURS OF PLAYTIME
Ayaneo already teased the Ayaneo Kun in July, highlighting its huge 8.4-inch screen and Hall Effect joysticks and triggers. However, Ayaneo didn't reveal many specs for the handheld at the time.
Now that the Ayaneo Kun has launched, we know that it will run on an AMD Ryzen 7 7840U processor and will be powered by a 75Wh battery. Ayaneo says it will be the largest battery in any Windows handheld. Still, that massive battery may feel lost on its users since the Ayaneo Kun gets a max of around three hours of playtime and that's with screen brightness dropped to the minimum, the fans running on Silent Mode, and most features turned off.
For comparison, Asus' ROG Ally uses a 40Wh battery that gets around three or four hours of gameplay on the lowest settings, while the Steam Deck also has a 40Wh battery that gets a max playtime of around eight hours. Of course, Ayaneo's 75Wh battery is powering a high-end handheld with a huge screen so you can't expect too much in terms of battery life.
Ayaneo also confirmed that the Ayaneo Kun will have Windows Hello face recognition thanks to its front-facing camera. The rest of Ayaneo Kun's design feels pretty standard for handhelds these days with an eight-way D-pad, four customizable back buttons, and dual touchpads. Ayaneo did include a hidden nano-SIM card slot so the Ayaneo Kun can support 4G if you install a separate module.
CROWDFUNDING STARTING IN SEPTEMBER
Considering these specs, it shouldn't be a surprise that the Ayaneo Kun starts at $1,209. As with its other handhelds, Ayaneo is dropping its upcoming offering on indiegogo on September 5. You'll be able to reserve the Ayanoe Kun at early bird pricing starting at $999 for the base configuration with 16GB RAM and 512GB of SSD storage in black. At the top end, you can get an Ayaneo Kun with 64GB of RAM and 4TB of SSD storage in black, silver, or white, but it starts at $1,949 and has early bird pricing of $1,699.