Ayaneo's New Windows-Based Handheld Has a Luxurious 8.4-Inch Screen
The company's premium handheld will likely come with a steep price tag.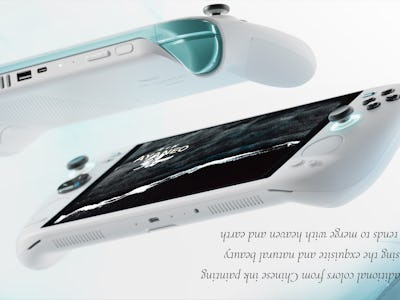 Ayaneo
Ayaneo has been steadily churning out handhelds with its latest addition to the pack, the Kun, sporting a formidable 8.4-inch display. Ayaneo teased its latest flagship handheld on Twitter, claiming that it'll be "possibly the most powerful Windows handheld ever."
Bold claims aside, Ayaneo didn't reveal any internal specs yet and only teased the exterior design of the Kun. Still, the handheld should sit at the top of Ayaneo's offerings, beating out the Next Pro which was released a year ago, and the more recent 2S handheld.
HUGE HANDHELD DISPLAY
Ayaneo offered a complete look at the Kun's design, which prominently features an 8.4-inch screen. That's notably larger than the Steam Deck and the Asus ROG Ally's seven-inch displays. While the Kun's larger display may detract from portability, Ayaneo says its grips were designed for a larger screen.
Like Ayaneo's other handhelds, the Kun will get Hall effect joysticks and triggers that should prevent stick drift and durability issues. The Kun will also get Ayaneo's usual eight-directional D-pad and fingerprint recognition while adding rear buttons, dual touchpads, and facial recognition.
Ayaneo didn't reveal what chips the Kun will be using, nor the battery life, but CEO Arthur Zhang previously said that "a big battery is a must" and the Kun would have the "highest capacity" battery of any of its handhelds so far.
EVEN MORE EXPENSIVE
Ayaneo says the Kun will be offered in colors inspired by Chinese ink paintings. From the Twitter images, it looks like we'll get black, white, and gray options. As for the release date, Ayaneo says it will launch the Kun through Indiegogo soon.
While Ayaneo hasn't mentioned pricing at all, we wouldn't be surprised if the Kun had an expensive price tag considering the most expensive Ayaneo handheld that's currently available starts at around $1,100. The Kun could easily be double the starting price of the Asus ROG Ally or Steam Deck and if that's the case, it better offer serious performance to match the price.