Lenovo's Handheld Gaming PC Combines the Best of the Steam Deck and Switch
The rumored handheld hasn't been officially confirmed by Lenovo yet.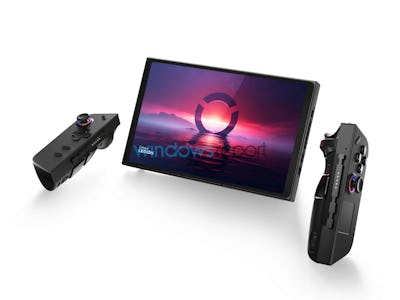 WindowsReport
It feels like we hear about a new gaming handheld every other week, but the rumored first offering from Lenovo caught our attention. WindowsReport got its hands on some leaked images of Lenovo's upcoming handheld, reportedly called the Legion Go. Going off the images, the Legion Go looks comparable to the Steam Deck or Asus ROG Ally at first, but it also reminds us of the Nintendo Switch with its detachable side controllers.
We first heard about Lenovo working on a handheld through a Windows Central report a couple of weeks back. It wasn't too surprising since the gaming handheld space has really taken off and Lenovo had been interested in the market since 2021 when it made an earlier rendition called the Lenovo Legion Play.
BEST OF BOTH WORLDS
Going off of the leaked images available, the Legion Go most notably has detachable side controllers reminiscent of Joy-Cons, and similar to the Onexplayer 2. The Lenovo handheld features a standard layout with two asymmetrical joysticks, a D-pad on the left side, a four-button layout on the right, several menu buttons, and what looks like a trackpad below the right joystick.
On the back, the Legion Go features a wide vent and a kickstand to prop up the handheld. According to WindowsReport, the handheld has a number of ports, including USB-C, a headphone jack, and a microSD card slot, and will run on Windows 11. The Legion does have a distinguishing design feature though, with its hidden wheel within the detachable right controller.
We still don't have any confirmed specs, but the Windows Central report suggests that Lenovo could go with an eight-inch screen and AMD's new Phoenix processors for its Legion Go.
TO BE ANNOUNCED
Since Lenovo hasn't acknowledged the existence of its rumored handheld yet, we don't know when it's planning to release the Legion Go, nor the pricing details. Considering how these images look like a finished product, we wouldn't be surprised to hear an announcement from Lenovo soon.
Companies like Ayaneo and Ayn may be churning out handhelds to compete with the Steam Deck, but Lenovo's handheld looks like it combines the best features of two of the most notable handhelds on the market. That could be enough to make the Legion Go stand out in a sea of handheld options.