GoPro's Hero 12 Black Could Be the Best Way To Shoot Vertical TikToks
That's on top of longer recording times, AirPods support, smoother video stabilization, and more.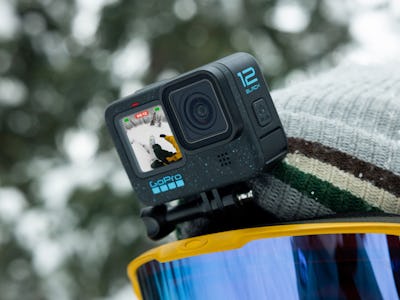 GoPro
Like clockwork, GoPro is back at it again with a new action camera — this time it's the Hero 12 Black for $399 ($599.99 for the "Creator Edition which includes a few accessories) and launching on September 13.
Unlike other action camera makers (hello Insta360 and DJI!), GoPro is not messing with its iconic form factor. Hard to believe we're on the 12th version of the GoPro Hero, but here we are. Aesthetically, the Hero 12 Black is unchanged except for a few details. There's now blue speckling on the body, the record button on top is no longer red, and maybe the most useful for creators is the addition of a 1/4"-20 mounting thread between the standard foldable mounting "fingers for attaching to tripods and other mounts.
The most important changes — like longer continuous recording time, Bluetooth audio connectivity with wireless earbuds and mics, and vertical video capture without needing to rotate the camera — are on the inside of the Hero 12 Black, though.
Up to 2X Recording Time
Through the magic of optimization between the Hero 12 Black's software and custom GP2 chipset, GoPro says it was able to nearly double recording times in some capture modes without changing the design of its Enduro batteries. With the new — somehow even more stable — HyperSmooth 6.0 video stabilization, in the Hero 12 Black's highest recording mode of 5.3K at 60 fps, the camera can record for 70 minutes continuously; in 5.3K at 30 fps for "over 95 minutes" continuously; and in 1080p at 30 fps "over 155 minutes" continuously.
For comparison, the Hero 11 Black can record at 5.3K60 for 61 continuous minutes; 5.3K30 for 80 minutes; and 1080p30 for 137 minutes, according to GoPro's official battery times.
Where does the doubled runtime come up? According to GoPro, it's measuring the continuous runtime "before thermal shutdown." So yes, while a Hero 11 Black can record for up to 61 minutes in 5.3K60, it's likely to overheat and only last up to 35 minutes according to GoPro. Two times 35 minutes works out to 70 minutes for the Hero 12 Black.
It's a little bit sneaky the way GoPro is measuring the longer continuous battery life. Of course, I'll be testing this claim to see if the longer recording time holds up or whether the footprint needs to be printed larger.
Bluetooth Audio Connectivity
With more people using GoPros for vlogging, the company is meeting them halfway with support for Bluetooth wireless earbuds like AirPods, headphones, and microphones. Want to mount a Hero 12 Black to the front of a car and record clear audio from inside of the vehicle or from a distance? Go right ahead. The Hero 12 Black can record audio from its built-in mic and from connected audio devices.
Bluetooth audio connectivity even works for voice controls so you can control it from afar and say things like "GoPro, start recording" or "GoPro, HiLight" to create a highlight clip.
Even Smoother Video Stabilization
I don't know how GoPro keeps doing it, but it keeps making its video stabilization, HyperSmooth, even smoother. On the Hero 12 Black, HyperSmooth 6.0 crops even less of the sensor to allow for a wider field of view. Usually, HyperSmooth (or any video stabilization) works by using the center of the frame and chopping off a little bit of the sides that show the warp correction.
GoPro's best-in-class video stabilization for action cameras all but obsoleted the need for a gimbal and HyperSmooth 6.0 continues to impress with footage that's even less jiggly.
Vertical Recording Without Rotating
Adding a portrait recording mode for vertical videos in the Hero 7 Black was a real game-changer, but it required physically rotating the camera. That's not necessary on the Hero 12 Black — it can be mounted horizontally and still capture 9:16 video, which is ideal for TikTok, Instagram Reels, YouTube Shorts, etc.
The Hero 12 Black does so by cropping in on the 8:7 1/1.9" sensor which is taller than what you'd find in other cameras (action or not). Ideally, you'd shoot at the highest resolution with the 8:7 sensor and have the flexibility to crop for 16:9 widescreen, 9:6 vertical, or 4:3 in a video editor without cutting off any important areas of the frame.
Easier for Pros and Beginners
We'll be here all day if I detail every new addition in the Hero 12 Black, so I'll give you the highlights. Because GoPros are used by creators of different skill levels, the company has made efforts to satisfy both beginners and professionals.
For beginners, the "Easy Controls" are even more simplified to make it easier to dive right into capturing great footage. No need to read an instruction manual to decipher settings — all the modes are easy to understand. In addition to Night Effects a.k.a. long exposures for videos (i.e. light painting, star trails, and vehicle light trails), the mode also creates a single long exposure image.
On the opposite spectrum, more advanced creators will be excited to see a new GP-Log recording mode and LUTs compatibility, which makes it easier to match (read: color grade) footage from the Hero 12 Black with footage shot with other cameras. There's also timecode syncing for an unlimited number of Hero 12 Blacks — useful for capturing multiple angles with several GoPros. And for the real pros, who want the very widest 177-degree field of view and best stabilization, there's the Max Lens Mod 2.0 ($99.99 or $79.99 for GoPro subscribers) that screws over the Hero 12 Black's built-in lens.
In October, GoPro will be selling a 10-inch pole that extends to 48 inches with an included detachable waterproof Bluetooth shutter remote. It'll allow for selfie footage from even farther distances or for faking drone shots, something I get a real kick doing.
Also coming to Macs this fall for GoPro subscribers: a desktop version of GoPro's Quik editing software. A Windows version will arrive later sometime in 2024.