This Tiny Action Cam Makes GoPros Feel Humongous
Insta360's Go 3 records in 2.7K video and is as big as your thumb.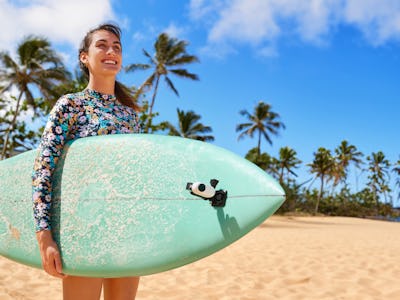 Insta360
Action cameras are great adventure companions, but they should never get in the way of the action itself. Insta360 is taking this to the extreme with its tiny action cam, the Go 3. The Go 3 is far less bulky than a GoPro, even its Hero 11 Black Mini, weighing in at 1.2 ounces and being no bigger than a flash drive.
Instead of a traditional mounting system, Insta360 went with magnets for a snappier way to attach and detach the Go 3. As the name implies, this is the third generation of Insta360's tiny action cameras and it has updated the lineup with higher video resolution and longer battery life.
SMALL BUT MIGHTY
The Go 3 now records up to 2.7k video at 30 fps and slo-mo 1080p video at 120 fps, which is a big upgrade from the Go 2's max resolution of 1440p. Insta360 is introducing three new recording modes for Go 3, including its Pre-recording, Loop Recording, and Timed Capture features. Insta360 says you'll be able to get that dreamy sunrise timelapse a lot easier with Timed Capture since it can schedule the Go 3 to power on at a certain time and start recording.
The Go 3 also gets an upgrade to a 45-minute battery life and a battery that can fully charge in 35 minutes. You can extend that length by clicking the Go 3 into Insta360's Action Pod, bringing it up to 170 minutes of recording time. The Action Pod is similar to the Go 2's Charge Case since it acts as a protective case, external charger, remote control, and mount. The Action Pod is still an improvement since it has a 2.2-inch flip touchscreen that makes vlogging and selfies a lot easier.
Insta360 added another mic to the Go 3 for a total of two mics and incorporated Voice Control 2.0 so that you can use the action cam hands-free. The Go 3 by itself can go up to 16 feet underwater with its IPX8 waterproofing. Be careful if you're using it with the Action Pod though, since it'll only get an IPX4 water-resistance rating.
ACCESSORIES GALORE
Along with the Action Pod, the Go 3 comes with a Magnet Pendant that lets you wear the action camera like a necklace, an Easy Clip that is designed to fasten onto a hat brim, and a Pivot Stand that uses a reusable sticky mount.
Insta360 is offering the Go 3 in three models with internal storage options of 32GB, 64GB, and 128GB. All three are available now on Insta360's website, with the 32GB model starting at $379.99 and the 128GB topping out at $429.99.