DJI's Newest Action Camera Can Record for 2.5 Hours Straight
The Osmo Action 4 tops out at 4K video quality.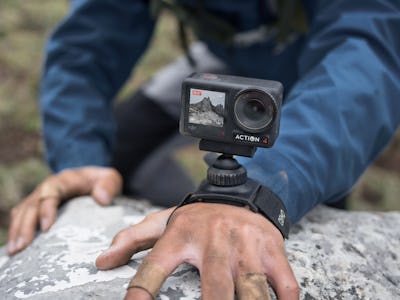 DJI
DJI is mostly known for its drones, but it also makes really competitive action cameras to GoPros. Its latest action camera, the Osmo Action 4, competes directly with GoPro's Hero 11 Black, and in some ways outdoes it — for example, recording time.
After going back to the GoPro-esque styling with the Osmo Action 3, DJI's brief attempt at a modular design with the Osmo Action 2 appears to be over.
2.5 HOURS OF RECORDING
DJI packed a 1/1.3-inch sensor into the Osmo Action 4, which maintains a f/2.8 aperture and a 155-degree ultra-wide field of view. The Osmo Action 4 still maxes out video recording at 4K at 120 fps and holds onto its stabilization modes, like HorizonSteady and RockSteady.
The touchscreens on the front (1.4 inches) and the back (2.25 inches) are identical in size to the Osmo Action 3's, but DJI has made both of them more resistant to water stains. Since you're probably wondering: the Hero 11 Black has a 1.4-inch front screen and a marginally larger 2.27-inch rear touchscreen.
The Osmo Action 4 can record up to 160 minutes and charge up to 80 percent in 18 minutes. In comparison, GoPro's Hero 11 can only record for up to 137 minutes straight. And as an action camera — a device meant to endure punishing conditions — DJI says the battery can withstand low temperatures of up to -4 degrees Fahrenheit and depths of up to around 60 feet underwater.
Like the Osmo Action 3, the Osmo Action 4 lets you create four customizable preset modes for quick access. The Quick Switch button is back too, which lets you bounce between the Osmo Action 4's shooting modes, like Photo, Video, Slow-Motion, Timelapse, and custom modes.
A few other convenient features: there's a 2x digital zoom for video and 4x for stills, and you can shoot native vertical video as long as you have the Horizontal-Vertical Protection Frame accessory on. You can also program the Osmo Action 4 as a live-streaming camera or connect the action cam to DJI's LightCut app for quick edits over Wi-Fi.
PLENTY OF ACCESSORIES
DJI raised the price of its latest action camera to $399 with the standard combo that comes with various mounts and pads, as well as the previously-mentioned Horizontal-Vertical Protection Frame. If you want more batteries and accessories, DJI is offering the $499 Osmo Action 4 Adventure Combo which adds two more Action Extreme batteries, a Multifunctional Battery Case, and an Extension Rod.
Beyond the combos, the Osmo Action 4 has a ton of compatible accessories ranging from a $16 bite mount (that's a stick you put in your mouth for POV shots) to a $79 GPS Bluetooth remote controller. The camera is available for purchase from DJI's store starting today.
This article was originally published on