Razer's 4K Kiyo Pro Ultra is a streamer's dream webcam
Twitch and YouTuber streamers are going to really want this high-res 4K webcam.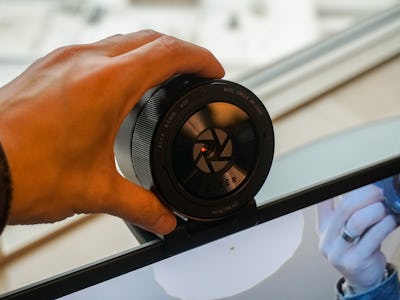 Raymond Wong / Inverse
I know my webcams pretty well. So when I saw Razer's new 4K Kiyo Pro Ultra webcam at CES 2023, its lens-sized dimensions clipped atop a laptop display definitely caught my attention.
There are two schools of thought on webcams. In the first camp, there are people who believe it rose fast and then fell faster after 2020. And then there's the second camp: streamers, content creators, and remote workers who prize a high-quality webcam without going full-on using a real camera as a webcam, and they're willing to pay top dollar for it.
For people in the first camp, a new webcam, even one as advanced and feature-packed as the Razer Kiyo Pro Ultra, is a big "meh." But for anyone in the second camp (including myself), Razer's new 4K webcam could be a game changer compared to a built-in laptop webcam or an aging Logitech one.
Big sensor means big image quality boost — The non-Ultra Kiyo webcam tops out at 1080p resolution at 30 fps. In comparison, the Kiyo Pro Ultra has a 1/1.2-inch Sony Starvis 2 sensor that's capable of 4K resolution at 30 fps or 1080p at 60 fps.
The nearly 1-inch sensor means two things: the physical size of the Kiyo Pro Ultra is massive (like a simple kit lens that comes with a DSLR or mirrorless camera) and the image quality is greatly improved. The webcam has an f/1.7 aperture which produces really nice shallow depth of field and it also means the low-light performance is better.
Razer says there's autoexposure, AI-powered image processing, and face-tracking. I tested the Kiyo Pro Ultra with a bunch of people moving next to and in front and behind me and the autofocus appeared pretty good. One thing you will notice missing on the Kiyo Pro Ultra versus the regular Kiyo Pro webcam is that there's no ring light; I miss that on the Ultra.
Privacy shutter with a twist — There's a neat little textured ring that you can twist to mechanically block the webcam. You can see it looks like a lens aperture in the top image above. It's really satisfying, but I wish it also electronically turned the webcam off and/or muted the microphone. Alas, it's just a mechanical privacy shutter. Better than nothing I suppose.
Easy setup — The Kiyo Pro Ultra is plug-and-play via USB 3.0. With the Razer Synapse app you can tweak various camera picture settings like ISO, shutter speed, and panning. It's all really straightforward and the app is very green — this is Razer after all.
Price and release date — Unlike many products announced at CES 2023, the Kiyo Pro Ultra will be available starting today, January 5, at $299.99 on Razer's online and physical stores. It's a pricey webcam, but if your career depends on it, I think it's a good investment. I'm very much interested in seeing how it compares to my Opal C1 webcam, which has a first-gen Sony Starvis image sensor.
INVERSE brings you everything from the fun and futuristic world of consumer technology at CES 2023. For all the latest technology coverage from the show, go to the INVERSE CES 2023 hub.