DJI Adds Crash-Preventing Sensors to Its Lightweight Drone
It'll be much easier to avoid an accidental crash with the DJI Air 3.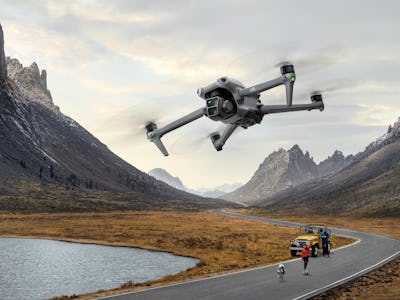 DJI
Drones aren't cheap and DJI's latest Air 3 is no exception — at more than $1,000, you really don't want to crash it. Now that DJI added omnidirectional obstacle sensors, you don't have to worry about accidentally hitting something while you chase those sweeping landscape shots.
Following the Air 2S, the Air 3 is the next generation of DJI drones, adding an extra camera for medium tele shots. Don't let the Air name fool you though, the Air 3 weighs 720 grams so you'll have to register it with the Federal Aviation Authority if you're planning to use it in the U.S.
FLY WITHOUT FEAR
With the Air 3, this is the first time that DJI is using its omnidirectional obstacle sensors in its more affordable drones. Normally, DJI's omnidirectional obstacle avoidance is reserved for its top-of-the-line prosumer Mavic drones. It's certainly an upgrade from the Air 2S's four-way directional sensing system.
To make the Air 3 more versatile, DJI added a medium tele camera that's equivalent to 70 mm. Both the wide-angle and tele cameras have 1/1.3-inch CMOS sensors that can shoot 48-megapixel stills and can capture up to 4K video at 100 fps and Full HD video at 200 fps.
While the Mini 3 Pro was the first to introduce native vertical shots, the Air 3 can now also shoot vertical video up to 2.7K video at 60 fps with both cameras. The Air 3 is also the first DJI drone to get the O4 video transmission system that allows for smoother 1080p at 60 fps live video feeds to your remote controller, up to 12 miles away.
FULL OF PRO FEATURES
The Air 3 will stay in the air longer with a max flight time of 46 minutes, matching the battery life of the more-expensive Mavic 3 drones. The lightweight drone can hit a max altitude of nearly 20,000 feet and a max flight distance of around 20 miles. It also comes with all the modes we've come to expect from DJI drones, including the FocusTrack modes that keeps your subject in frame and QuickShots and MasterShots that automatically takes professional-looking video with the touch of a button.
The Air 3 is currently available to order on DJI's website and is already shipping. With the basic controller, the updated drone will start at $1,099. DJI's Fly More Combo with the basic controller will start at $1,349, while the Fly More Combo with the RC 2 controller with start at $1,549. To get the most out of the Air 3, DJI is doing a batch of accessories like an ND filter set, a 100W USB-C power adapter for fast charging, and a 65W car charger.