DJI Tacks On Another Camera To Make A New Mavic 3 Drone "Pro"
But the real question is when are we getting a Mavic 4?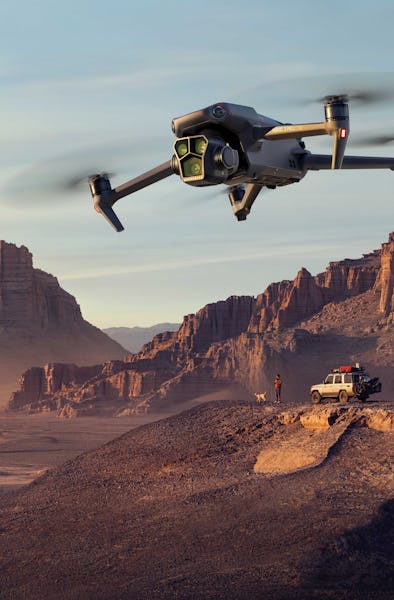 DJI
It's been more than a year since DJI first released the Mavic 3, yet the drone maker is still coming up with updated versions of its flagship drone. We now have the Mavic 3 Pro, which marks the third edition of the Mavic 3 series for DJI.
The Mavic 3 Pro earns its name since it features a total of three cameras: a standard wide-angle camera, a medium telephoto camera, and another telephoto camera. The Mavic 3 Pro comes on the heels of DJI's release of its Inspire 3 that's meant more for professional shoots, but the latest drone is also a follow-up to the Mavic 3 Classic that was released in November.
DJI's steady release of drones that are only slightly different doesn't seem to be impacting its market domination, though. Still, we're starting to have trouble keeping up with the constant stream. To make it easy, the Mavic 3 Classic has one camera, the original Mavic 3 has two cameras, and this upcoming Mavic 3 Pro has three cameras.
EXTRA TELE LENS
Of the three cameras, DJI didn't go for any changes with the main wide-angle camera. It still uses a 4/3 CMOS sensor that was developed with Hasselblad and can record up to 5.1K video at 50 fps or 4K video at 120 fps.
The Mavic 3 Pro's medium telephoto camera has a 1/1.3" CMOS sensor that can snap up to 48-megapixel photos and record up to 4K60p video. The new medium telephoto camera also has 3x optical zoom and supports DJI's D-log M video format designed to offer more color detail when editing.
Mavic 3 owners are likely familiar with these two cameras already, so the only notable addition would be the extra telephoto lens. DJI's added telephoto lens has an increased resolution, a better video frame rate, and an aperture of up to f/3.4. It can also record 4K60p video but only captures 12-megapixel photos. For drone users who don't want to run the risk of getting too close to the subject, it also has a 7x optical zoom and a hybrid zoom of up to 28x.
With the three cameras, the Mavic 3 Pro gets you three different focal lengths: 24mm, 70mm, and 166mm. All three of the drone's cameras support Apple ProRes 422 HQ, Apple ProRes 422, and Apple ProRes 422 LT video encoding.
The Mavic 3 Pro will have a little less flight time than its predecessors with a max flight time of 43 minutes. Besides the new camera on the Mavic 3 Pro, you can expect the same features we saw with DJI's other flagship drones. The Mavic 3 Pro will still have DJI's reliable obstacle avoidance and its programmed shooting modes QuickShots and MasterShots.
WAITING ON THE MAVIC 4
The Mavic 3 Pro is already available on DJI's website and will start shipping to customers in May. The drone by itself will cost $2,199, but DJI will offer Fly More Combos with the Mavic 3 Pro that will start at $2,999. If you really want the premium package, DJI is offering its Cine Premium Combo which starts at $4,799 and has a Mavic 3 Pro with a built-in 1TB SSD. That means the Mavic 3 Pro now occupies that $2,200 price range that the original Mavic 3 was offered for, whereas the Mavic 3 has been reduced to a starting price of $2,050.
Compared to the other Mavic 3 models, the Mavic 3 Pro feels like a somewhat niche upgrade for those specifically looking for a drone with better zoom capabilities. Not to mention, all of the Mavic 3 models occupy a similar prosumer category. With all of these iterative updates to the Mavic 3, we're wondering what DJI has in store for a Mavic 4.