DJI's Mini 2 SE Makes Buying Your First Real Drone Less of an Investment
The Mini 2 SE's release comes on the heels of the Mini 3 models released last year.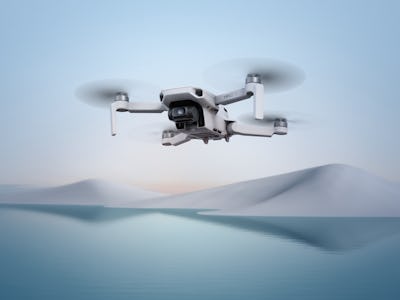 DJI
Following the release of two versions of its Mini 3 drones, DJI is adding another mini drone to its lineup. DJI revealed its Mini 2 SE drone, which could be interpreted as the second-gen of the Mini SE or the SE version of the Mini 2. Either way, DJI's Mini 2 SE is set to be one of the more affordable ways to get into drones.
DJI is really filling out its mini drone lineup, but the Mini 2 SE can be boiled down to a budget-friendly beginner drone that doesn't offer 4K video. The Mini 2 SE may feel like a watered-down version of the Mini 3, but it slots in as the most affordable modern mini drone in DJI's Mini lineup.
Mid-grade mini drone — Like its siblings, the Mini 2 SE weighs less than 249 grams, meaning you don't have to register with the Federal Aviation Administration. We've come to expect a certain level of polish from DJI drones, and the Mini 2 SE is no different with easy-to-fly controls like one-tap takeoff and the return-to-home feature.
The Mini 2 SE also gets DJI's pre-programmed flight modes like QuickShots and Panorama that make it easy to get professional-looking drone shots. The Mini 2 SE uses a 1/2.3-inch CMOS sensor that snaps 12-megapixel photos and captures 2.7K video. It uses the same three-axis gimbal as DJI's other drones and has a wind resistance of 10.7 m/s, so you'll get stable video in most conditions. You can fly the Mini 2 SE for a max of 31 minutes before having to switch batteries or recharge.
Compared to the recently-released Mini 3, the Mini 2 SE lacks the larger 1/1.3-inch sensor, 4K video capabilities, and a 38-minute maximum flight time.
Most affordable Mini — The Mini 2 SE's specs are less impressive than DJI's Mini 3 offerings, but it also comes at a more affordable price point. The Mini 2 SE by itself starts at $369, while DJI's Fly More Combo — which includes a controller, extra batteries, spare parts, a shoulder bag — starts at $519. The Mini 2 SE is going to be available starting March 22 on DJI's website and select retailers.
That's a fair amount cheaper than the already solid $469 price of the Mini 3 and much cheaper than the Mini 3 Pro, which starts at $669. The Mini 2 SE may feel unnecessary for those who already have either Mini 3 model, but DJI seems set on capturing every single drone customer at each price point.