GM Is Turning All Of Its New EVs Into Home Batteries
You'll soon be able to power your home with any of GM's Ultium-based EVs.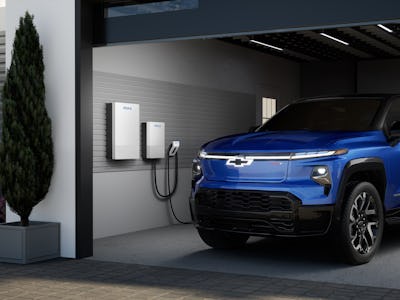 GM
If you want a home-powering battery and an EV, GM is read to give you the complete package. The American automaker will make its Vehicle-to-Home (V2H) bidirectional charging tech available on all of its Ultium-based EVs starting with model year 2026, which means any EV made with GM's Ultium platform will be able to power your home.
This latest move follows GM's recent push into the home energy market, with the automaker releasing a competitor to Tesla's Powerwall in June. Called Ultium Home, the initial lineup includes three bundles, each with a combination of a charger, V2H kit, or power bank.
TWO-WAY CHARGING
For GM's latest move, it's planning to make its Ultium-based EVs work with its Ultium Home products for bidirectional charging. GM says the V2H feature is already planned for the 2024 Chevrolet Silverado EV RST as its first EV to debut the tech. The Silverado will be followed by the GMC Sierra EV Denali Edition 1, 2024 Chevrolet Blazer EV, 2024 Chevrolet Equinox EV, 2024 Cadillac Lyriq, and the soon-to-be-announced Cadillac Escalade IQ.
Most of these EVs will have large battery packs that let you dump extra charge into your Ultium Home power bank, allowing for a couple of benefits. Firstly, you can reduce your home's energy consumption and reliance on the power grid with an alternative power source through your EV. More importantly, you'll have an emergency power source in the case of power outages or blackouts.
BUILDING A GM ECOSYSTEM
GM hasn't revealed when its V2H bundles will come out, nor the pricing of each package. On top of that, we don't know when GM will implement its V2H functionality with each of its upcoming Ultium-based EVs. Still, in a couple of years' time, all of GM's Ultium-based EVs will have this capability.
We could see this V2H functionality being a major draw to GM's EVs. Tesla won over some additional customers with its Powerwall but still doesn't offer bidirectional charging with its EVs. Tesla recently said it's looking to deliver bidirectional charging by 2025, but GM will deliver this feature first with its Chevy Silverado EV.