GM's EV-Compatible Home Energy Bundles Will Compete Against Tesla's Powerwall
Another competitor in the home battery game.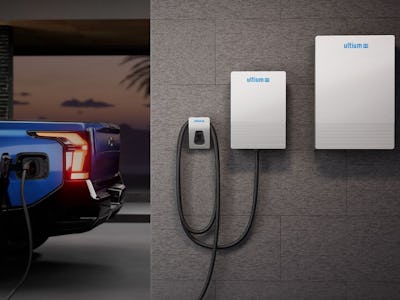 GM Energy
Tesla's Powerwall isn't the only home battery player in town these days. Last week Anker stepped into the fold with its Solix energy storage products, and now GM — with its line of Ultium home products — is giving new details on home energy solutions that it announced back in October.
There are three different options in GM's lineup, two of which (expectedly) tie in with GM's EVs, which also use its Ultium platform. Both the V2H Bundle and Energy System Bundle will take advantage of the Ultium platform's bi-directional charging abilities, meaning anyone that purchases those solutions can use their GM EV as backup power in the event of an emergency.
A third charging solution, the Ultium Home Energy Storage Bundle, gives customers energy storage without the ability or need to use an EV.
GM's Ultium home energy solutions
Which of the three flavors of Ultium home battery bundles appeals to any given person will depend on what role they see their GM EV in charging, if at all.
If you're more of a middle-ground person and want the best of both worlds, the Ultium Home Energy System should hit the sweet spot. This bundle provides vehicle-to-home (V2H) charging, so you can theoretically power your house from your EV, but also standalone energy without a vehicle involved with the help of GM's PowerBank.
The PowerBank itself comes in two different variants depending on how much energy you want to store. The lowest rung will be 5 kW/10.6 kWh while the top rung will provide 7 kW/17.7 kWh. For reference, Tesla's Powerwall 2 has a 13.5kWh capacity and 7kW of peak power.
If you prefer not to store energy off the grid, GM's PowerBank will also be compatible with solar arrays from GM Energy's exclusive partner, SunPower. It's worth noting that if it's flexibility you want (maybe SunPower's solar systems are too expensive or too conspicuous for your liking) recently announced competitors like Anker offer power storage solutions that are compatible with most third-party solar arrays you can buy.
Ultium Home Energy Release Date
The move into home energy storage makes sense for GM. As it pushes to overtake Tesla and become the go-to purveyor of EVs in North America, it should be competing on more than one front. For Tesla, EVs are only part of the game.
Though GM hasn't given specific dates for when each bundle will be available to the public, it did say that each solution's release date will vary.