Anker Is Tesla's Newest Powerwall Battery Storage Competitor
Anker's modular at-home battery pack can power a whole house.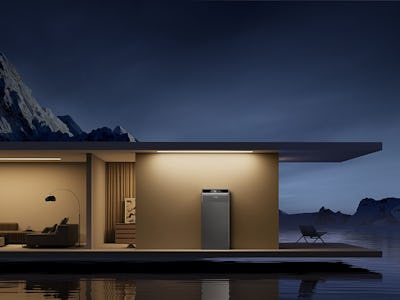 Anker
Tesla isn't just feeling the heat when it comes to EVs. The company's Powerwall, an at-home battery storage system that pairs well with its solar roofs, just got a new competitor from Anker.
Anker's new battery system, the Anker Solix All-in-One Energy Storage Solution (part of a whole Solix line of products), will bring a twist to the category in the form of modularity. According to Anker, its system will scale all the way from 5 kWh of power to 180 kWh. That should give consumers flexibility not just in terms of energy storage, but for price. For anyone looking for an energy storage solution geared more toward backups in case of an emergency, flexibility could be a major selling point.
Conversely, Tesla's Powerwall comes standard at 13.5 kWh but can be coupled with 10 other units. As you might imagine, systems like this don't come cheap, however. Just one Powerwall unit could cost about $11,500. On top of that, you'll have to order the power bank with Tesla's solar panels.
Anker's system will reportedly be compatible with a user's existing solar panel, but it also sells its own option on that front.
Other power products
Speaking of solar panels, in addition to the large power bank, Anker is also offering its own balcony-mounted solar panel and power bank system.
The Anker Solix Solarbank E1600 includes two solar panels and an inverter that plugs into a power socket for sending energy back to the grid. Anker says the system will be available in Europe to start and is compatible with "99 percent" of balcony-mounted photovoltaic products.
The system has a capacity of 1.6 kWh, IP65 water and dust resistance, and Anker says it takes just five minutes to install. The solar bank supports 6,000 charging cycles and also comes with an app that connects to the device through Wi-Fi and Bluetooth.
Price and release date
Both products make a lot of sense for a company like Anker which has made a name for itself by selling capable power banks and charging accessories. But that major factor on whether Anker has a shot at capturing Tesla's would-be market is price. And on that front, it's unclear just where Anker's solution will slot in.
If, for example, its lowest-storage option clocks in cheaper than Tesla's base 13.5 kWh Powerwall, it might make a lot of sense for consumers who don't need the extra juice.
Anker says it will make additional details available later this year with plans to make the Solix products available by 2024.