Tesla's New Powerwall Feature Charges Your EV With the Sun
But only if you have a compatible Tesla EV and Powerwall system.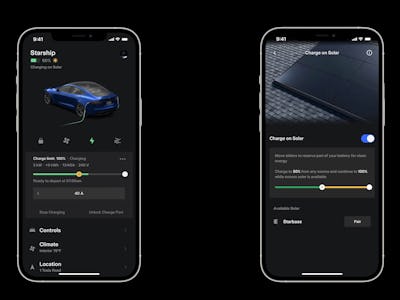 Tesla has an official way to charge up your EV with solar energy. Tesla introduced its Charge by Solar feature that lets you use excess solar energy stored in your Powerwall to charge up your Tesla EV. The feature doesn't cost anything extra, but you have to have a compatible Tesla EV and a Powerwall system installed, which is already a pricey venture.
Using excess solar energy to charge your Tesla EV does mean you can cut down on your carbon footprint and reliance on the power grid. It's reserved for Tesla devotees since it requires a Powerwall and solar panels, but the new feature is a smart way to entice those on the fence to spring for the whole system. It's also another reason for customers to stick with the Tesla brand instead of Frankensteining a solar charging or backup power setup with Anker or GM's alternatives.
EASY SETUP
The Charge on Solar feature works by using any excess solar energy captured by your Powerwall for charging up your Tesla EV. The feature does require a modern Tesla since any Model S from 2012 to 2022 and any Model X from 2015 to 2020 aren't eligible.
Once set up, you can set your solar energy charge limit on the Tesla app using sliders. Your Tesla EV will charge normally with the grid until it passes the slider marked by a sun, where it will then use excess solar energy to charge up the rest of the way. The obvious way to set this up would be to set the slider to a point where you'll have enough charge to get you through the day. This way, you shouldn't run out of charge on your Tesla during the day and any further charge would be from solar energy.
The feature also has a Scheduled Charging feature since it's ideal to use the Charge on Solar feature during the day when the sun is out. You can set the Charge on Solar option to turn off once the sun sets, where it'll switch over to charging off the grid at night. Of course, Tesla's new feature will still work with the Powerwall's settings like Storm Watch, Backup Reserve, Self-Powered, Time-Based Control, and Go Off-Grid.
NORTH AMERICA EXCLUSIVE
Tesla says the Charge on Solar feature will only be available to customers in the U.S. and Canada. It seems likely that the feature will eventually come to Europe, but we're curious if Tesla will ever open up Charge on Solar to other EVs.
Tesla has already opened up its Supercharger network to non-Tesla EV and has been winning support from major automakers switching over to NACS. This could mean that Tesla is open to the idea of allowing other brands to access its other proprietary designs. On the other hand, the Powerwall and the option to charge via solar energy seem like a good way to get the most out of current Tesla diehards.