What Tesla's Recent Charging Dominance Means for EV Owners
NACS is looking more and more like it'll become the industry standard.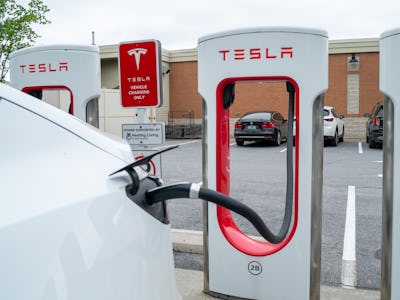 Robert Nickelsberg/Getty Images News/Getty Images
Ford was the first EV maker to commit to Tesla's North American Charging Standard (NACS) charging port design in late May, and since then the shift has been torrential, with several automakers aiming to build their EVs with the NACS port starting in 2025.
While there are plenty of EVs still using the competing Combined Charging Standard (CCS) — including those from BMW, Volkswagen, and Hyundai — the recent adoption is a huge turn for Tesla's NACS that could change EV charging as we know it. Here's everything we know about the ongoing shift to NACS.
WHICH AUTOMAKERS HAVE ADOPTED TESLA'S NACS?
As we mentioned earlier, Ford was the first domino to fall in adopting NACS. At the time, it was a major move since a legacy automaker was buying into Tesla's proprietary design. In less than a month's time, GM, Rivian, and Volvo all followed suit, generating some real momentum for NACS to become the industry standard.
There are still holdouts like Hyundai and Stellantis Group, which owns Chrysler, Dodge, Jeep, and others, but they are currently considering or evaluating whether they should adopt NACS. As for public charging station companies, ChargePoint recently said it would offer NACS ports at its new and existing locations.
WHY IS TESLA OPENING UP ITS CHARGING NETWORK?
This may feel like a strange move from Tesla, which could've chosen to be protective about its proprietary charging system and its Supercharger network. After all, it's a major selling point for Tesla's EVs that you'd get access to the most extensive charging network in North America.
That all changed when Tesla decided to open-source its proprietary connector design, rebranding it as NACS. This move was later supported by Tesla opening up its Supercharger network to EVs from other brands with the help of its Magic Dock adapters.
Since Tesla has already established itself in the EV manufacturing business, it may be looking to expand its business and solidify its brand name as an EV charger provider as well. This would be a smart move considering how much competition there is in the EV space nowadays and how well-designed Tesla's Supercharger network is.
IS NACS BETTER THAN CCS?
It's not so definitive yet as there are still pros and cons for each standard. Tesla has certainly won people over with how simple it is to find and use a Supercharger location via Tesla's apps. The NACS connector itself also features a slimmer, simpler design.
There's also the matter of availability. Even though there are more CCS public charging locations across the U.S., there are roughly 9,000 fewer available ports as compared to NACS, according to the U.S. Department of Energy's Alternative Fuels Data Center. CCS also can support 800-volt fast charging, whereas NACS is only able to deliver 400-volt at the moment. That could change with the introduction of Tesla's V4 Supercharger, though.
CAN NACS BECOME THE INDUSTRY STANDARD?
Currently, CCS is the most widely-adopted standard for EV charging ports. NACS may have won support from individual EV makers, but it still has a long road ahead of it to become the majority standard in North America.
As for industry organizations, SAE International recently said it would standardize NACS and make the connector less dependent on Tesla. The association, which develops standards for auto engineering, said this move would allow any EV maker to use the NACS connector. Charging Interface Initiative, an association that pushes electrification of all forms of transportation, recently said it stands behind CCS and MCS — this standard is meant for larger, commercial EVs — but supports standardizing NACS.
WHAT ARE THE NEXT STEPS FOR NACS?
With four major EV makers signed on in such a short amount of time, it's clear that NACS adoption is snowballing. We're still waiting on some holdout EV companies to adopt NACS, but if that happens, it'll be too hard to ignore NACS becoming an industry standard eventually.
Once SAE International comes out with an official standard for NACS, it will likely spur even quicker adoption from EV makers and charging companies. This will require Tesla's charging connector to go through a process with a standards development organization, where it could be improved upon. After that, EV owners non-Tesla and otherwise could be taking advantage of Tesla's Supercharger network in the near future.