How To Charge Your Non-Tesla EV at a Tesla Supercharger
Tesla is slowly updating its Supercharger network to accept non-Tesla EVs.
Written by Henri Robbins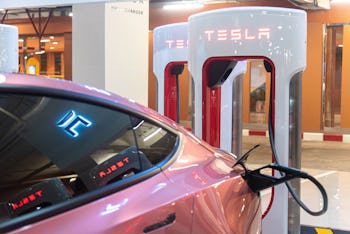 SOPA Images/LightRocket/Getty Images
Tesla's charging stations are everywhere these days: parking lots, gas stations, and college campuses. But until now, its charging stations have been limited to Tesla-manufactured vehicles.
In a major win for non-Tesla owners, however, the EV titan has been rolling out upgrades to its Supercharger network that allow for non-Tesla electric vehicles to charge at its stations as well.
When did Tesla open its chargers to non-Tesla EVs?
For compatible Supercharger stations, Tesla has installed adapters (called Magic Docks) that allow their proprietary charging stations to plug into non-Tesla CCS charging ports — a standardized charging port found on cars like the Porsche Taycan, Rivian R1T and Polestar 2, among others.
Before broadening their charging stations to other standards, Tesla opened their proprietary charger under the "North American Charging Standard" (NACS) name, intending "to codify Tesla's charging connector as a public standard."
The installation of these Magic Docks is meant to "support [Tesla's] mission to accelerate the world's transition to sustainable energy" by broadening the infrastructure of electric vehicle charging and allowing for multiple charging standards to coexist.
This decision follows Tesla's 2022 release of a then-$250 CCS adapter for all Tesla models, which allowed Tesla owners to charge their vehicles at non-Tesla charging stations.
How does Tesla's Magic Dock work?
To charge a non-Tesla vehicle at a Supercharging station:
Download the Tesla app.
Create an account (this does not require a confirmation of your email address).
Select the "Charge Your Non-Tesla" option.
Grant the app location permission, or enter an address near where you want to charge.
Locate a compatible Supercharger location, and select the "Charge here" option.
Drive to the location.
Follow the app's instructions on how to plug in your vehicle. If this doesn't appear at first, select the "How to Charge" option to bring up the guide.
Plugging in the vehicle seems to be straightforward — the charger will release with the adapter pre-installed, and you can plug it into your vehicle's charging port.
Once you've selected a charging post, park your vehicle in the correlating space and follow the rest of the instructions.
After this, you're asked to add a payment option. The app notes that "A temporary payment hold will be placed on your payment method when you start charging. Once the charging session is complete and successfully paid, we will release the authorization."
What cars are compatible with Tesla's Magic Dock?
Currently, compatible Superchargers can charge both modern Teslas and CCS-enabled vehicles. This means that the vast majority of electric vehicles sold in the U.S. and Europe are compatible with the new charging system, but those exclusively using CHAdeMO — primarily Nissan and Mitsubishi vehicles — or any AC chargers (like Type 1 or Type 2) are not going to be compatible.
Which Tesla Superchargers are being upgraded?
Currently, Tesla has not revealed a comprehensive list of all the Superchargers being upgraded. However, the Tesla app does show nearby compatible Superchargers for wherever you are.
If you see a Supercharger in the wild, you can identify it as having a Magic Dock adapter by looking at where the charging end of the cable plugs in. If the dock is fairly small, it has not been upgraded. If there is a larger dock, then it should be able to charge both Tesla and non-Tesla vehicles as soon as the Magic Dock has been activated.
Tesla owners online have reported seeing the adapters installed days before activation, so if you see a Supercharger with an adapter that can't be used to charge your EV, maybe just wait a few days.
How much does charging cost?
Charging a non-Tesla vehicle at a supercharger is more expensive than charging one of their own vehicles. Tesla claims this price increase "reflects additional costs incurred to support charging a broad range of vehicles and adjustments to [their] sites to accommodate these vehicles," and notes that the price can be lowered with the purchase of a charging membership.
The membership is $12.99 per month and appears to lower charging costs by around $0.10/kWh. The discounted charging price seems to be the only benefit, as idle fees use the same structure regardless of vehicle.
And for those wondering, a car getting 3 miles/kWh would have to drive almost 400 miles in a month to offset the subscription price.