Ford's New Electric Racing Van Makes the Mustang Look Pedestrian
It's a souped-up all-electric van with a wild-looking spoiler.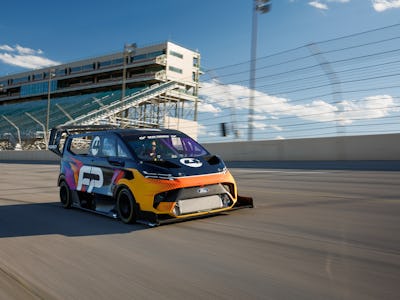 Ford
Vans may be great at hauling things around as a work vehicle, but they can also be race cars according to Ford. Ford introduced its SuperVan 4.2 that's designed to race in the Pikes Peak International Hill Climb. The historic race happens every year in Colorado and has attracted contestants like Honda, Hyundai, and Volkswagen.
Ford is looking to make history with its souped-up electric van that will take on 156 turns on a high-elevation race course. The SuperVan 4.2 is based on the SuperVan 4, which is based on the E-Transit Custom. The SuperVan 4.2 is very far removed from the work van that's currently available in Europe, but Ford may be gunning for the current record for the Pikes Peak hill climb that's held by the Volkswagen I.D. R, which is also a racing-focused EV.
A SERIOUS SPOILER
Ford made some serious adjustments to the SuperVan 4 that premiered at the Goodwood Festival of Speed in England. The SuperVan 4.2 has a complete redesign with improved aerodynamics and increased downforce. Ford decided to cut down on weight by using a carbon fiber spoiler and front splitter, but the race van still gets more than 4,400 pounds of downforce at 150 mph.
Surprisingly, the SuperVan 4.2 omits a motor from its predecessor and went with one motor in the front and two in the back. The three motors produce less horsepower than the SuperVan 4 but still hits 1,400 horsepower. Ford is powering the SuperVan 4.2 with Stard's Ultra High Performance Li-Polymer NMC pouch cells, which gets 600 kW of regeneration performance.
On top of the motor and battery upgrades, the SuperVan 4.2 has an upgraded regenerative braking system that uses carbon ceramic brake discs, improved driveshafts, a perspex windscreen, and magnesium forged wheels in Pirelli race tires. Ford also removed as much of the interior as possible to remove any unnecessary weight.
POTENTIAL RECORD-BREAKER
We'll get to see the SuperVan 4.2 in action during the Pikes Peak hill climb on June 2 which will be broadcast on YouTube. Otherwise, we're not likely to see anything resembling the SuperVan 4.2 in dealerships since it's a track-specific race car. Although, we would be interested to see what Ford could come up with in terms of a souped-up van designed with mass production in mind.