Ford's Updated E-Tourneo EV Balances Vanlife With a Daily Driver
This five-seater EV can easily switch from a family van to an adventure mobile.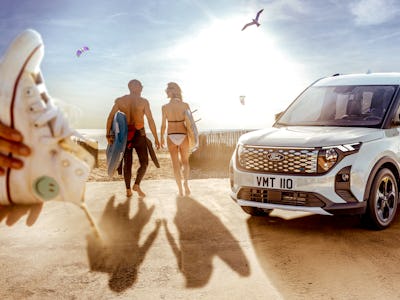 Ford
You shouldn't have to compromise between a decent daily driver and a car that can handle your weekend adventures. Ford agrees and is offering its E-Tourneo Courier, an all-electric multipurpose vehicle, as a response. Ford says it designed the electric MPV to do it all, including daily driving in the city, carrying groceries or work tools, and fitting all your family and gear when it's finally the weekend.
The latest EV is similar to Ford's previously-announced E-Tourneo Custom electric van that was designed for commercial use. Instead, the E-Tourneo Courier is meant for consumer use, even though it can probably handle itself just fine as a work vehicle. As incredible as it looks, Ford only has plans to release the E-Tourneo Courier in Europe at the moment.
ROOMY INTERIORS
The five-seater design means it can ferry people just as well as it can store gear. Ford built the refreshed E-Tourneo Courier with 44 percent more trunk space than its predecessor, with a rear bench that has a 60-40 split for more cargo space. Since there's no engine either, you'll also get an 11-gallon frunk.
The squared-off design of the E-Tourneo Courier reminds us of the Honda Element or the Kia Soul and was purposely shaped that way for more interior space and headroom. On the outside, Ford slapped on a "futuristic-looking coast-to-coast light bar," so we know for sure that it's an EV.
Ford didn't reveal any range numbers yet and we're not sure what battery the E-Tourneo Courier is going to use, but Ford previously said that the E-Tourneo Custom would be using the 74 kWh battery that also powers its F-150 Lightning.
As for the E-Tourneo Courrier, it will be powered by a 100 kW e-motor and can be fast charged from 10 to 80 percent in roughly 35 minutes. If you're in a pinch, you can fast charge to get around 54 miles of range in 10 minutes. Ford also built the E-Tourneo Courier with one-pedal driving capabilities, so you'll get some charge back from the regenerative braking design.
EUROPE EXCLUSIVE
Ford says the E-Tourneo Courier will be available in Europe starting in 2024, with no mention of a U.S. release. The electric MPV can easily cater to the outdoorsy demographic in the U.S., so we can only hope for a stateside release in the future.
The E-Tourneo Courier is only one of 10 all-electric vehicles that Ford has planned for Europe by 2024 and is one more step toward Ford Europe's plans to have two-thirds of its car sales be all-electric or plug-in hybrid models by 2030.