Fisker's Off-Road Kit Transforms Its Ocean EV Into a 550 HP Beast
After having just started deliveries for its Ocean SUV, Fisker is already working on an off-road upgrade package.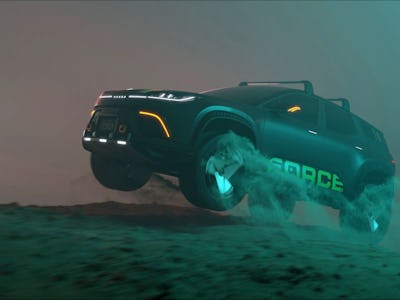 Fisker
It was a long wait, but Fisker just started deliveries on its first EV earlier this month. Already, the EV startup announced plans for an upgraded trim for its Ocean SUV that's designed for off-roading.
Recovering from early startup woes, Fisker finally reached the point of delivering its EVs. Fisker made a name for itself as a competitor to Tesla, enticing us with a lineup that included its Ocean SUV, its more compact Pear, and the sporty Ronin with a 600-mile range.
Now that Fisker officially has at least one of its EVs on the road, it's gone right back into announcing more uprgrades. To be fair, the Ocean Force E can be seen as more of a premium trim or upgrade package for its Ocean SUV.
RALLYING EXPERIENCE
Fisker is developing its off-road package under its Magic Works division in England and has called on its senior vice president of engineering David King to head up the project. Considering King's rally car racing experience in the '80s and '90s, we're expecting Fisker to do justice with this off-roading upgrade.
The Ocean Force E will be upgraded with 33-inch all-terrain tires and 20-inch reinforced wheels. The EV will also get better ground clearance and ramp angles, along with a titanium skid plate to protect its underside and specialized dampers for a smoother ride on rough roads. The upgrade includes interior additions as well, like rubber mats, extra grab handles, and tie-downs to keep all of your things secure while tackling bumpy trails. Fisker even has an optional lightweight roof basket for the top of the upgraded Ocean SUV.
Besides that, there aren't a lot of specs available. Fisker says its Ocean Force E will have an estimated 550 horsepower but hasn't revealed much else. The off-roading Ocean is likely based on the EV's Extreme trim that tops out at around 127 mph and goes from 0 to 60 mph in around four seconds.
RETROFITTABLE
Fisker says the Ocean Force E package will be available towards the end of the year. If you have an Ocean SUV on the way to you, Henrik Fisker chair and CEO at Fisker, says you'll be able to retrofit it with the off-road package.
Of course, there's no telling when you'll get your base Ocean SUV. Fisker may have delivered its first EV to a customer in Denmark, but a recent Bloomberg report is casting doubt on the startup's delivery progress. We're still a few months away from the expected Force E release, but don't be surprised if there are some delays.