This Hybrid SUV Can Float and Sail for 30 Minutes
The wild feature is strictly for emergency situations.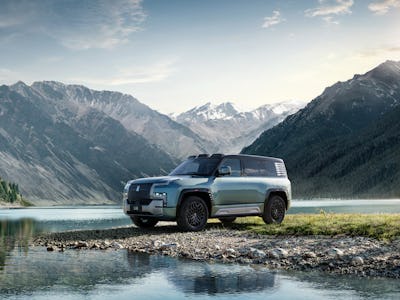 BYD
With natural disasters happening left and right, a hybrid SUV that can wade in the water for 30 minutes is starting to sound a lot more practical. BYD launched its latest EV, called the YangWang U8, which can do just that. For those unfamiliar, BYD is Tesla's main rival in the Chinese EV market, and YangWang is the Chinese automaker's luxury sub-brand, like what Lexus is for Toyota.
The YangWang U8 is a serious departure from BYD's best-selling EVs like the Seagull and Dolphin. Unlike its affordable options, the hybrid SUV's crowning feature is that it can float in shallow waters for up to 30 minutes, but also sail at low speeds. Elon Musk, Tesla's CEO, previously claimed that the upcoming Cybertruck would be able to cross rivers, lakes, and seas thanks to its waterproofing, but BYD has an actual demo proving it.
FLOATING TO SAFETY
Since the YangWang U8 can withstand shallow waters, the hybrid SUV has an IP68 rating meaning it's dust-tight and can be immersed in water for long periods of time. According to CarNewsChina, the YangWang U8 can wade in waters up to around 4.5 feet in depth. BYD makes clear that this feature is only for emergency situations and shouldn't be used recreationally. You even have to bring the SUV into a service center after you activate its emergency floating mode.
BYD will offer the YangWang U8 in two trims, the Premium Edition which can wade up to around three-feet-deep waters, and the Off-road Master Edition which can go into deeper waters thanks to its snorkel. BYD only revealed the Premium Edition's specs, which can go from 0 to 62 mph in 3.6 seconds and packs 1,200 horsepower. Besides raw power, the YangWang U8 can continue driving even if you get a tire blowout and can do 360-degree tank turns in any terrain.
Thanks to a plug-in hybrid system, the YangWang U8 gets up to 621 miles and can charge from 30 to 80 percent in 18 minutes. As a bonus, BYD included vehicle-to-load capabilities so you can charge your electronic devices for up to 25 hours.
AVAILABLE IN CHINA
As usual, all the interesting EVs we've found abroad have no plans of coming stateside. It's likely true with the YangWang U8, too since BYD doesn't have plans of entering the U.S. market.
BYD has already started presales for its amphibious SUV, with the Premium Edition starting at 1,089,000 RMB, or around $150,000. BYD is selling the YangWang U8 direct to customers, starting shipments of the Premium Edition in October, while the Off-road Master Edition is expected to come to market later in the year.