This Mini Electric SUV Proves China Is a Hotbed for Innovative EVs
The two-door SUV design is not for everyone, but it's a lot more fun than the standard-styled SUVs we've been seeing lately.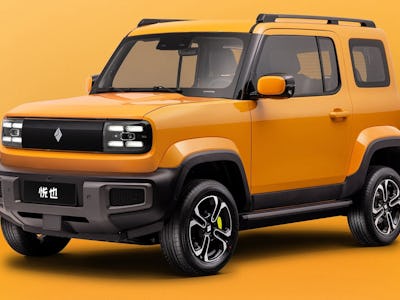 Baojun
Not every SUV has to be big and boxy. In a joint venture with two Chinese companies, GM is working on a mini SUV that likely won't make it to the U.S. market. The Baojun Yep reminds us of the unique design that we've seen with two-door SUVs like the Ford Bronco or the Suzuki Jimny while catering more to those looking for something fun to get them around cities.
Typically, the joint venture between GM, SAIC, and Wuling makes vehicles under the Wuling brand, like the massively-popular Hongguang Mini EV. However, the Yep falls under the Baojun brand that was created as a cheaper alternative to GM's existing brands in China, like Chevrolet and Buick.
Baojun's models don't have much of a reputation in the U.S., but its latest design could change that. We've been seeing a whole lot of automakers enter the EV market with an SUV model, providing plenty of options in that typical SUV form factor. It's not as powerful as some of the competition, but the Baojun Yep shows Chinese automakers aren't afraid to take some risks.
MODEST MILEAGE
The Yep's specs show us that the mini SUV was designed for jaunting around a city, not long road trips. The Yep will use a single electric motor that delivers 68 horsepower and a peak torque of 140 Nm. It's not the most powerful option out there, especially since it tops out at 100 km/h, or around 62 mph. Still, it makes a lot of sense for anyone running errands around town with a range of roughly 188 miles on a single charge.
You can also fold the back seats down for some more cargo space, and the mini SUV can also fit passengers in the second row albeit with some tight legroom. According to CarNewsChina, the first Yep will be rear-wheel drive, but Baojun is working on a four-wheel drive version that is powered by twin motors.
EXCLUSIVE TO ASIA
Baojun will reveal its Yep mini SUV at the Shanghai Auto Show in April with plans to start deliveries in May. The Chinese joint venture and its subsidiaries haven't released its models in the U.S. yet, so we're not expecting the Yep to come stateside either. The Wuling brand has opened up its most popular model to India, so there's some global momentum. However, we're not sure if the Yep will be able to meet the demands of American customers who want large SUVs.
While it's in a different size category, the Yep will likely have trouble appealing to the American market that tends to opt for mid- or full-size SUV models.