BYD's Seagull SUV is the Hottest Bargain EV That Americans Can't Buy
The BYD Seagull starts at an absurd $11,300.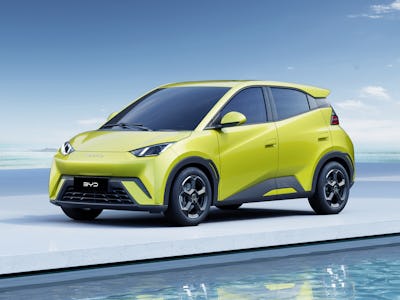 BYD
After receiving thousands of preorders for its budget EV, BYD officially put the Seagull on sale in China. The ultra-affordable EV already landed a ton of attention, but BYD dropped the price even further for its release, to a starting price of 78,800 yuan, or around $11,300.
That price point may sound ridiculously low to U.S. customers, but Chinese carmakers have been engaged in a heated price war for a while now. If that $11,300 starting price sounds enticing, the Seagull is expected to compete against the Wuling Bingo which starts at around $8,700.
The BYD Seagull wasn't designed to break speed records but is more than capable as a daily driver. Unfortunately, we can only be jealous of the cutthroat pricing going on in the Chinese EV market since it doesn't look like BYD has plans to bring the Seagull to the U.S.
THREE TRIMS, ALL AFFORDABLE
With such a low starting price, we're not expecting a performance-minded EV with the Seagull. BYD is building the Seagull on its e-Platform 3.0 and is offering the EV in three trims, all of them powered by a 74-horsepower single front motor. The modest motor produces a peak torque of 135 Nm and a top speed of 130 km/h or around 80 mph.
The difference in the three trims comes in the battery pack sizes. The most expensive trim, which starts at around $13,000, has a 38 kWh battery pack that gets you around a 251-mile range. The other two trims are built with a 30 kWh battery that translates to a 189-mile range. Both battery packs support fast charging though, where you can charge up the Seagull from 30 to 80 percent in 30 minutes.
As for the interiors, BYD went with a simplistic design with physical buttons, a seven-inch dashboard, and an 11.1-inch infotainment display that rotates.
BETTER OPTIONS OVERSEAS
BYD may have a hit on its hands since the Seagull already snagged 10,000 preorders in the first 24 hours after it debuted at the Auto Shanghai 2023. Again, the Seagull will only be available in China at the moment and it doesn't look like BYD has any plans to bring its EVs to the U.S.
Stateside, our best option is the Chevy Bolt EV, which unfortunately is on its way out. We're just hoping that all these affordable options abroad have American carmakers seriously reconsidering their own price points.