The 7 Most Futuristic Robots, Scooters, and Aircraft at Japan Mobility Show 2023
The future of transportation is more than just electric cars.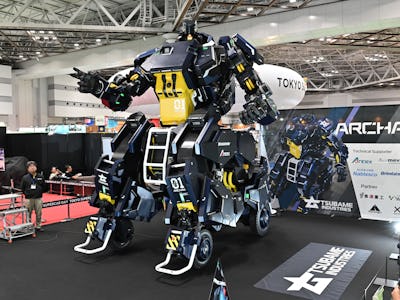 KAZUHIRO NOGI / AFP / Getty Images
Japan Mobility Show 2023 just kicked off, and as predicted, futuristic EV concepts are hogging the limelight.
But with the rebranding from the Tokyo Auto Show also comes a boatload of non-car technology to see and inspire. From robots to scooters, here are seven of the coolest non-car concepts coming out of Japan Mobility Show 2023.
TOYOTA LAND HOPPER
Your EV may get you most of the way, but Toyota wants your entire journey to be covered, even those last-mile moves. Much like Honda's Motocompacto, the Land Hopper is meant to be folded up and stored in your trunk when not in use, but easily set up if you don't feel like walking those few blocks from your parking spot. Toyota says the Land Hopper's three-wheel design means you can also lean in hard for some tight corners.
SUZUKI MOQBA
Looking to conquer stairs instead of hills? Suzuki's MOQBA might be the perfect solution. The four-legged e-scooter has a ton of articulation to help climb up stairs. The concept was designed to fit multiple purposes and can be transformed into a medical stretcher, a motorized chair, or even just a way to carry things.
YAMAHA MOTOROID2
Yamaha's Motoroid2 concept is an electric motorcycle at its heart, but it can recognize its owner, balance on its own without the kickstand, and even move alongside the rider. Yamaha says you'll get a "lifelike feel" when you ride the Motoroid2, but we'll have to try it in person to believe it.
HONDA eVTOL
Taking it to the skies now, Honda is showing off a smaller mockup of its electric vertical takeoff and landing (eVTOL). The hybrid aircraft uses a gas turbine and an electric battery to fly and is meant for personal flights between cities. While more conceptual, the Honda eVTOL could be the future of personal jets or air taxis.
YAMAHA TMW
Like the Land Hopper, Yamaha went with three wheels for its off-roading trike. The TMW's two front wheels move independently for some fun maneuvering on dirt trails. However, the real cherry on top is the front basket that can keep itself level no matter how hard you corner or how steep the hill is.
SUBARU AIR MOBILITY CONCEPT
Subaru's Air Mobility Concept is starkly different from Honda's eVTOL; it's more of a blown-up drone with a driver's cockpit right in the center. Subaru is pretty light on details about the Air Mobility Concept, but Subaru says its engineers are working on getting flight demos going.
TSUBAME INDUSTRIES ARCHAX
If you've ever dreamed of piloting a Gundam, you're not alone. Tsubame Industries wants to make that dream a reality with the Archax. The robot only tops out at just over six mph, but its 3.5-ton weight and 15-foot height sure look menacing. You might not be flying around at jet speeds with the Archax, but it's about sending a message.