How to Build a Gundam
At 25 tons and 60 feet tall, the life-sized Gundam mech in Yokohama is a singular feat of engineering.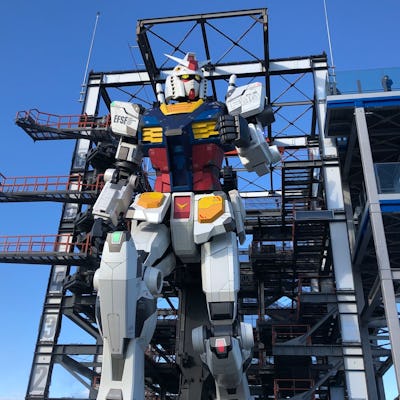 Photo Courtesy of Joshua Meyer
On a wind-swept pier in Yokohama, Japan, the world's largest mobile humanoid robot has a new lease on life. Originally set to close on March 31, 2023, the towering mech at Gundam Factory Yokohama has had its operations extended by another full year, just in time for the return of the Mobile Suit Gundam: The Witch From Mercury anime series this month.
Like Star Trek, the Gundam franchise comes from the humble beginnings of a canceled TV series that found a second life in reruns and movies. With the life-size "Moving Gundam," which weighs 25 tons and stands almost 60 feet tall, it's now one step closer (quite a few of them, actually) to leaving science fiction for reality. Certified as the biggest robot of its kind by Guinness World Records, the Moving Gundam gives the illusion of walking and can move its head and hands or even kneel before standing back up and pointing to the sky. It's an engineering feat that most people outside Japan never got to observe up close — until last October when the country finally reopened its borders after two years.
"When you make something big, everything becomes heavier, and the strength of the material becomes insufficient."
Yokohama's working Gundam represents a major leap forward from earlier large-scale Gundam statues, like the Unicorn Gundam, located near Miraikan, the Tokyo "future museum" where Honda's human-sized ASIMO robot could once be seen walking, jogging, and even hopping on one leg. The Unicorn Gundam, by contrast, has stood largely immobile since 2017, though it does boast a transforming head.
After the Moving Gundam first began welcoming tourists at the tail end of 2020, questions arose in Popular Mechanics and other places about the specifics of how it works and whether it was a true robot or just a next-level moving statue. The answer lies somewhere in the middle.
The brainchild of a team led by Yoshiyuki Tomino, creator of the original 1979 Mobile Suit Gundam anime series, the Moving Gundam came to life as the result of nine companies working together as technical partners. According to Astratec, which was responsible for its motion program and control systems, the Gundam "is neither a piece of heavy equipment nor an industrial robot" but rather "an entertainment device the likes of which no one has ever seen before."
In 2012, the company's chief robot creator, Wataru Yoshizaki, was involved in the production of Suidobashi Heavy Industry's boardable and rideable Kuratas robot. For Gundam Global Challenge (GGC), the project overseeing the Moving Gundam's design and construction, Yoshizaki served as system director alongside technical director Akinori Ishii, who started out building Gundam plastic models as a kid before it led him down the road to engineering.
Ishii offers a slightly different definition of the Gundam, explaining in a press release its "frame is comprised of construction machinery, and the drive system uses industrial robotics." While it was outfitted with a cockpit, however, this was purely an aesthetic choice, and Ishii admits that it "moves according to predetermined motions" and "cannot be freely operated." The one exception is its motorized hands, designed by the Tokyo-based company Kokoro, which also produced the robots for the Sanrio character boat ride in the city's Hello Kitty Land theme park.
Shuji Hashimoto, professor emeritus at Waseda University, served with Tomino as one of the GGC's top project leaders, and he acknowledged in an email interview that building a real-life, operational Gundam to anime specifications presented "technical difficulties." Coordinating efforts among the numerous participants posed a further logistical challenge.
"Since the work is done by experts in many different fields such as machinery, electricity, electronics, information, architecture, civil engineering, and artistic design," Hashimoto tells Inverse, "communication is difficult."
"It was always essential," he adds, "to discuss the overall scope, instead of just thinking about the interfaces between the individual parts."
Since the scope in this case was down-to-earth entertainment, as opposed to space militarization, it took some of the pressure off. Despite the international thrust of the GGC's name, Hashimoto cites the use of domestic technology and a common language (Japanese), along with a shared generational affinity for Gundam, as uniting factors in the project's success amid the isolating effects of the pandemic. Yet as engineers strove for a mech made real, they also found themselves constrained by the bounds of present technology.
At Gundam Factory Yokohama, visitors will see an apology letter from Tomino posted near the exit. In it, the anime writer-director discusses how the very concept of a walking Gundam somewhat defies gravity, creating problems such as how to get a giant bipedal robot to lift its foot off the ground and maintain its balance without falling over.
"When you make something big, everything becomes heavier, and the strength of the material becomes insufficient," fellow GGC leader Pitoyo Hartono, an Indonesian engineering professor at Nagoya's Chukyo University says.
Add to this the fact that Japan has no legal precedent for a vehicle the height of 10 stacked cars and it soon became apparent to the project leaders that they needed to construct the Gundam "according to building regulations." In this sense, the Gundam could perhaps be regarded as a moving building, an extension of the weatherproof Gundam-Dock tower, where it remains stationed, giving performances every 25 to 35 minutes throughout the day.
"Technology makes dreams come true. I believe that by seeing the full-scale Gundam, we are able to lay the groundwork for a dream to build on."
Though it's not immediately evident to the naked eye, the robot is attached to a flatcar called the Gundam-Carrier. This keeps it suspended and supported from the lower back, enabling it to move up, down, forward, and backward. During the performances, smoke blows up over the low wall in front of it, drawing the spectator's attention away from how its feet fail to connect with the ground as it marches in place.
To mitigate the difficulty of having the Gundam truly walk on two legs, one early proposal suggested locking it in a sumo-wrestling stance with an enemy Zaku unit so they could support each other on four legs. It's something that might have appealed to Ghost in the Shell filmmaker Mamoru Oshii, who is quoted on-site saying he "wanted them to make a Zaku instead of a Gundam." These and other observations come from Gundam-Lab, where a series of walk-through exhibits breaks down how the Moving Gundam operates by comparing its inner workings to those of the human body.
The Gundam-Carrier acts as an external spine, while the rest of the Gundam's internal steel frame correlates to a skeleton, one that almost resembles an upright version of the headless robo-dog in the Black Mirror episode "Metalhead." Computer programming fills the brain role, while a vast network of inner wiring approximates nerves and veins. At 16,000 feet, the length of all the Gundam's signal cables and other wiring would stretch out higher than Mount Fuji.
The robot's tricolor armor, or "skin," is made partly of carbon fiber-reinforced polymers, rendering its covering so thin and lightweight as to be nearly hollow in places. This is what enables it to move its massive limbs. Servo motors, hydraulic cylinders, and precision reduction gears aid in movement, functioning as muscles and joints in areas like the shoulders, waist, thighs, knees, and ankles.
Nomura Co. Ltd. handled the overall production and body design for the Moving Gundam. The company was also involved in the design of Hayao Miyazaki's Ghibli Clock sculpture in Tokyo. With its executive creative director, Masaki Kawahara, who doubles as a GGC director, it later helped plan the Godzilla Interception Operation Awaji theme park attraction, which allows guests to zipline into the King of Monsters' mouth.
At Gundam-Lab, everything from the droids of Star Wars to the kaiju-fighting Jaegers of Pacific Rim has a place on the timeline of fictional robots, right below the history of real robot development. Elsewhere, much attention is given to why Gundam found popularity with a humanoid shape, despite the scientific impracticality of such a design. A more realistic robot endeavor might be Mobile Suit Gundam's anime Guntank, which moves on treads rather than legs.
Oshii contends that "it was made humanoid to sell toys; there's really no other reason." Others suggest, more charitably, that Gundam's human shape allows viewers to identify with it as an avatar of sorts. For Hashimoto, its real-world counterpart now amounts to an avatar of dreams.
"Science seeks truth and shows the limits of what can be done theoretically," he says. "Technology makes dreams come true. I believe that by seeing the full-scale Gundam, we are able to lay the groundwork for a dream to build on."