Star Trek: Discovery Is Ending with Season 5 — It Couldn't Come at a Better Time
It's sad to see DISCO go, but now, the flagship show of the new Trek era can end on a high note.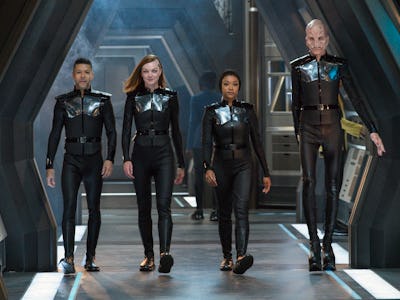 Paramount+
It's been a long road, getting from the 23rd century to the 32nd century, but soon, the last days of DISCO will be upon us. The gutsy and tumultuous Star Trek series that ushered in a new era of TV trek — Star Trek: Discovery — will end its run in Season 5, in 2024. It's a somber moment for fans of the series who have supported it from the beginning. But, this endpoint might also be the best case of Discovery's legacy.
According to official statements released by executive producer Alex Kurtzman and showrunner Michelle Paradise, Discovery's upcoming fifth season will be the final season, which confirms the suspicious of several fans and pundits, and oddly, reinforces the idea that Discovery was first conceived with a five-year plan in mind. This news also comes at a time when Paramount is cutting costs across the board, and several other Star Trek series are already in production.
But, beyond the cold, hard facts, how should fans feel about this? It's sad when a Trek show ends, but the final season of any Star Trek series is usually an exciting event. And in this franchise, endings and beginnings are pretty much the same thing. The end of Discovery is certainly not the end of Star Trek on TV, and perhaps, could signal that yet another new series will rise in its place.
When Star Trek: Discovery debuted in 2017, there had not been a new Trek TV series in 12 years. Early buzz for DISCO was mixed, and although the fan response and interest in the first season were strong, the critical reception was all over the place. There were also not-so-secret behind-the-scenes changes, which made some fans wonder who was really steering the ship. One important example: the departure of showrunners Aaron Harberts and Gretchen Berg, midway through Season 2 of Discovery, shook-up the series while it was trying to pivot to a new tone. Halfway through this crucial season, which incorporated legacy characters like Spock (Ethan Peck) and Captain Pike (Anson Mount), the people running that show were fired. Stepping into that gap was Michelle Paradise, who, bravely took Discovery through not one but two radical reinventions.
Discovery began as a series about the Klingon War and the Mirror Universe. Then, in Season 2, it became a family story about Michael Burnham (Sonequa Martin-Green) and her brother Spock (Ethan Peck). Season 3 changed the show again, but also altered the setting, by catapulting the crew 930 years into the future, smack-dab into the 32nd Century, and far away from any version of Trek canon we'd seen before. Season 4 continued in that timeline, which brings us to the impending Season 5.
As of this writing, it appears possible and even likely that Season 5 was not initially planned as the ending of Discovery, and that this move to make it the final season is somewhat retroactive. According to the Hollywood Reporter, "there will be additional filming to help craft a conclusion for the series." For cynics or worried fans, this might sound like bad news, but, when it comes to the legacy of Discovery, this is probably the right time for the show to end on a high note. It's taken the series quite a while to find its footing, and it seems possible, even likely, that if the series continued beyond Season 5, there would be a temptation for it to reinvent itself again.
More than any other Star Trek series, (yes, even Picard) the basic premise of Discovery, as well as its cast of characters, has changed somewhat radically from season to season. Arguably, some of this was by design, but the fact is, each season of Discovery saw massive departures of characters or the arrival of new ones. Other than Michael Burnham (Sonequa Martin-Green), Saru (Doug Jones), and Paul Stamets (Anthony Rapp), it's difficult to find other characters who appear as consistently across the series as these three. Even Tilly (Mary Wiseman) was absent for a huge chunk of Season 4, while newer fan favorites, like Book (David Ajala) or Adira (Blu del Barrio) didn't arrive until Season 3.
Season 3 also saw the departure of Michelle Yeoh's mega-popular character, Philippa Georgiou, who has (so far) played two versions of a character with this name, from two different universes. Although Season 4 had its merits, the absence of Michelle Yeoh was keenly felt.
Through no fault of its own, each season of Discovery has felt like the show was saying goodbye to something. Famously, Season 2 found Michael and the crew saying goodbye to Pike, Spock, Number One, and the Enterprise, which allowed Strange New Worlds to become its own spinoff show. Season 3 said goodbye to Michelle Yeoh, but also to semi-regular Rachael Ancheril. Tilly took a break in Season 4, as did Grey (Ian Alexander). To borrow a phrase from Scotty, DISCO can't take much more of this. Because the series opened the door for Star Trek to even exist again on TV, it's almost as if Discovery exists as multiple Star Trek shows at once. It's the show that brought back the franchise. It's the show that set up Strange New Worlds, and it's the show that changed Trek canon in several ways, but retroactively, and proactively.
In most ways, Discovery has accomplished its goals. And, it lasted longer and was more dynamic than some of the naysayers believed. Its reputation is already intact. Now is a good time for the crew to jump that Spore Drive, while the series is stable, consistent, and fully sure of its identity. It may not be the ending that was planned, but this could be exactly what Discovery and the rest of the Trek franchise need.
Star Trek: Discovery Season 5 will hit Paramount+ sometime in early 2024.