Mercedes-Benz One-Upped Tesla in Its Quest for Full Self-Driving
Drive Pilot is more self-driving than Tesla's Full Self-Driving.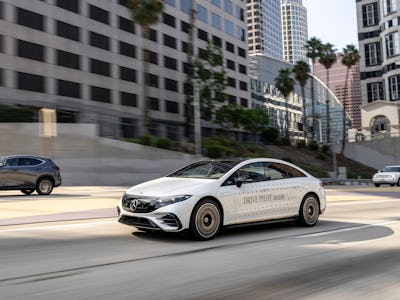 Mercedes-Benz
Tesla is the biggest name in self-driving cars, but right now it may not be leading the pack. Mercedes-Benz announced the pricing and availability of its Drive Pilot system that will debut later this year. The German automaker says its SAE Level 3 system will hit the streets of California and Nevada through a limited fleet of EQS sedans.
Mercedes-Benz says it's the first automotive manufacturer in the world to bring a Level 3 system into a production vehicle in the U.S.
For reference, both Tesla's Autopilot and Full-Self Driving features are considered Level 2 autonomous driving systems since you have to be able to take over at any moment. As for Drive Pilot, you're technically not driving and only have to take over if the system asks you to.
NOTABLE LIMITS
When Mercedes-Benz's Drive Pilot system debuts, it will only be initially available on California and Nevada freeways. Those two states were the only ones to approve the Drive Pilot system and issue certification to use it on major roadways.
When using Drive Pilot, you don't need to babysit the automated driving process. It can drive up to speeds of 40 mph on compatible freeway sections, even if there's a lot of traffic. That usage does sound limited, but the key factor is that you don't have to pay attention while using Drive Pilot.
Mercedes-Benz's system uses a ton of sensors and cameras, including LiDAR, a road wetness sensor, a rear window camera, and microphones to listen for emergency vehicles. Those sensors are paired with a high-precision positioning system that Mercedes-Benz says is more accurate than GPS since it's able to determine the position of a car down to inches.
Even if the Drive Pilot system fails, Mercedes-Benz has built-in redundancies for steering, braking, and the car's electrical system so that you can take over.
SUBSCRIPTION MODEL
So far, Mercedes-Benz says its Drive Pilot system will cost $2,500 to activate for the first year, but didn't elaborate on pricing after that even though it's a subscription service. That's a costly entry fee combined with a subscription model that people will likely protest, but it is groundbreaking technology.
The Drive Pilot system's limited debut will eventually be expanded upon, with Mercedes-Benz planning to include it in future EQS sedan and S-Class models. As for expanding reach, Mercedes-Benz says it will make Drive Pilot usable in more U.S. markets in the future.