Mercedes-Benz's Futuristic EV Concept Makes Tesla's Model 3 Look Extremely Boring
Now this is electric motoring.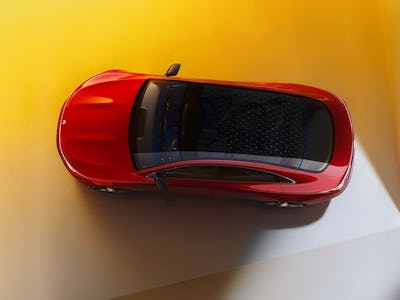 Mercedes-Benz
Concept cars toe a fine line. On one hand, they should be futuristic — they are quite literally conceptual after all. On the other hand, they should be just grounded enough to make you say "Wow, now that's something I could drive."
Luckily for the EV enthusiasts paying attention to IAA Mobility 2023 in Munich Germany, Mercedes-Benz's Concept CLA Class does both.
The EV concept is a long-range sedan that clearly has Tesla set in its sights. According to Mercedes, the Concept CLA would achieve a 466-mile range using the automaker's Modular Architecture platform. For reference, that's above Telsla's refreshed long-range Model 3, which should get about 421 miles of range on a single charge.
And believe it or not — the Model 3 may be the best comparison here. Mercedes plans to price the Concept CLA as an entry-level EV, though what that means in terms of cold, hard, numbers is unclear. This is a concept, mind you, and pricing usually comes much closer to reality. Plus, it's Mercedes-Benz we're talking about here.
Future Forward
Mercedes-Benz always knows how to make a concept look sci-fi, and the Concept CLA is no different. On the outside, highlights include an A-shape grille with a "star motif" and (naturally) the mandatory EV light bar. The result is a pretty striking face-like facade that, whether you like it or not, definitely makes a statement.
The star motif even finds its way to the Concept CLA's wheels, which I assume would look pretty mesmerizing when this thing is in motion. If you really, really want everyone to know you're driving a Mercedes, this should be the EV for you.
Inside Mercedes-Benz continues its trend of making EVs with the biggest, boldest screens — in this case, the MBUX Superscreen which stretches from door to door. In case you've been living in a box, it's clear Mercedes (and lots of other automakers) have decided that big, chonkin' infotainment screens are the future.
To hammer home its future-forward design, Mercedes-Benz also decks the Concept CLA with ambient lighting, which even seeps into the exterior to offer "animated lighting scenarios" that greet or wish drivers a farewell.
Taking on Tesla
There are obviously wilder concepts out there than the Concept CLA, but part of what makes this one particularly interesting — to me, at least — is its juxtaposition to the biggest fish in the EV pond, Tesla.
While Tesla has made a habit of minimalist (and in my opinion, rather boring) EV design, the CLA makes bold choices right from the start. Maybe you love a "star motif" or maybe you hate it, but it's something.
Whether a great range and bold design will be enough to eat away at the Model 3's dominance is an entirely different story. On that front, the Concept CLA has a long road ahead.