Ayaneo's New Gaming Handheld Has a Sliding Screen and Full Keyboard
Bounce effortlessly between gaming and chatting.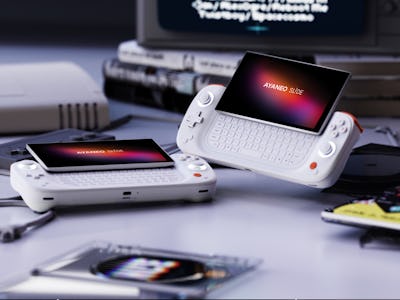 Ayaneo
With all of the folding devices out there, we've nearly forgotten about the slide — nearly that is. Ayaneo hasn't, however, as evidenced by their recently launched Ayaneo Slide gaming handheld that features a 1080p display that slides up to reveal a full thumb keyboard. The Ayaneo Slide joins the Ayaneo Flip and its clamshell design as part of the company's retro-inspired handhelds. The Ayaneo Slide was teased back in July, but the handheld made its official first appearance at this year's Toyko Game Show.
Ayaneo is claiming a lot of firsts with the Ayaneo Slide, but it's not the first gaming handheld to feature a slidable display with a keyboard underneath. The GPD Win 4 came out earlier this year, building off its predecessor that featured a similar design. Still, there are a few key elements separating the Ayaneo Slide from the competition.
SLIDE AND ADJUST
For the Ayaneo Slide, you can adjust the angle of the six-inch display after sliding it out. With the display out, you'll see a keyboard with RGB lighting, which Ayaneo says is the first to do on a Windows handheld. It may just feel like a colorful invitation to talk smack in the in-game chat, but the full keyboard still provides a ton of functionality, especially since there are also Fn keys.
Like its other recent handhelds, the Ayaneo Slide will run off AMD's Ryzen 7 7840U processor and have Hall effect joysticks and triggers to prevent any sort of stick drift or dead zones. With an x-axis linear motor and gyroscope, you'll get adjustable vibration and tilt controls.
The Ayaneo Slide will be powered by a 45.62 Wh battery, meaning less battery life compared to the more premium Ayaneo Kun. You can still set up the Ayaneo Slide as a portable workstation though when you connect it to an external device. As for ports, the Ayaneo Slide has two USB-C ports and a microSD slot.
AVAILABLE SOON
With the public debut of the Ayaneo Slide, the handheld is going to be available to order on Indiegogo soon. Ayaneo still hasn't detailed the pricing for its slidable handheld, but you'll most likely get discounted pricing if you want to be an early supporter. Even without pricing, we're expecting the Ayaneo Slide to slot above the Ayaneo Pocket Air which goes for around $300, but significantly lower than the Ayaneo Kun's more than $1,200 price tag.