Ayaneo's Affordable New Gaming Handheld is Going Retro
Time to revisit the old-school classics.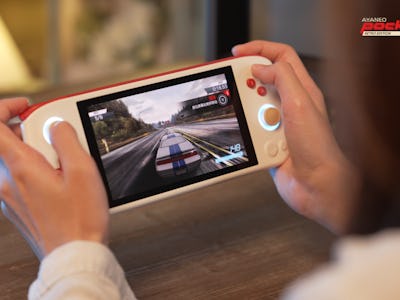 Ayaneo
Handheld gaming PCs are arriving at a torrential pace. For proof, look no further than Ayaneo, which just launched its Pocket Air gaming handheld a day after debuting its Kun handheld meant for AAA titles.
The smaller, lightweight Pocket Air is aimed at retro games and has a much more palatable price than Ayaneo's other devices. Ayaneo is also exploring the mobile Android gaming space with the Pocket Air since it's the first Android-based device the company has made. Considering Ayaneo has only ever made Windows-based handhelds and the plethora of existing mobile Android gaming options, it's a bold move for Ayaneo.
RETRO GAMES IN A MODERN DEVICE
With a 5.5-inch screen and 1080p resolution, the Pocket Air is much smaller than Ayaneo's other handhelds which generally fall around the seven-inch sizing. Ayaneo has even bumped up screen size to 8.4 inches with the Ayaneo Kun. And since it's geared towards older games, the Pocket Air's smaller display — similar to a Nintendo 3DS or the PlayStation Vita — feels fitting.
Inside, Ayaneo is powering the Pocket Air with a MediaTek Dimensity 1200 processor, which should be plenty for most retro games out there. The 7,350 mAh battery means you should get at least a few hours of gameplay, while the Hall-effect joysticks and triggers should prevent stick drift.
The Pocket Air will come with a nano-SIM card slot on one side and another slot to fit a second nano-SIM card or a TF card. That means you don't have to limit yourself when it comes to building your backlog of old-school games you want to revisit.
SEPTEMBER DROP
Ayaneo has really been churning out handhelds and says it'll start shipping the Pocket Air by the end of September. The base version with 6GB RAM and 128GB of storage will retail for $319, but you can snag it for $279 with an early bird price tag through Indiegogo. If you want a more premium version, you can opt for the 12GB RAM and 512GB model that retails for $519 and has an early bird price of $399.