This Handheld Gaming PC Mixes the Best of a Blackberry and Nintendo DS
Complete with a clamshell design and a thumb keyboard.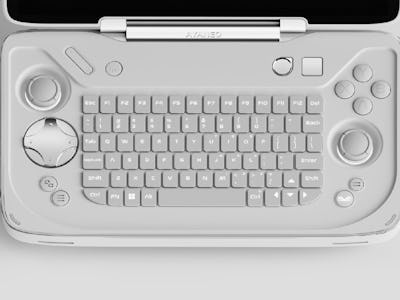 Ayaneo
Another week, another Ayaneo handheld announcement. Ayaneo teased its latest gaming handheld called the Ayaneo Flip, which features an eye-catching clamshell design that opens to unveil a mini keyboard designed for thumb typing.
The Ayaneo Flip isn't even the handheld maker's first design to feature a keyboard — that accolade goes to its recently announced Ayaneo Slide, which will be launched on indiegogo soon. Of course, the Ayaneo Flip will appeal to those who want the clamshell design, while the Slide targets those who prefer a Sidekick-esque gaming handheld.
COMING AFTER GPD
For the Ayaneo Flip, the handheld maker has only teased some images and scant specs. According to the brand's discord, the Ayaneo Flip will come with a seven-inch display with a 120Hz refresh rate, matching that of the GPD Win Mini. Ayaneo could differentiate itself from the competition by offering an OLED display, considering its other handhelds already take advantage of that.
We don't have exact specs yet, but Ayaneo CEO Arthur Zhang said in the brand's Discord that the Ayaneo Flip will have stronger heat dissipation and performance compared to its competitors. According to the CEO, the Ayaneo Flip will have similar specs to the Ayaneo 2S, which runs off an AMD Ryzen 7840U. Zhang also said in the Discord that the keyboard would be similar to the traditional Blackberry keyboard.
HANDHELD OVERLOAD
Zhang said that Ayaneo is planning to release both the Ayaneo Flip and the Ayaneo Slide by the end of the year. Now that the Ayaneo Slide is about to launch, we should be hearing about the actual specs for the Ayaneo Flip soon.