This Handheld Gaming PC Looks Like the Modern Nintendo DS We've Been Waiting For
Add one more device to Ayaneo's upcoming releases.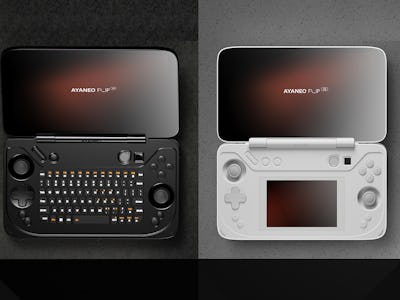 Ayaneo
If you've been waiting for a remastered version of Nintendo's iconic DS handheld, you're in luck.
Ayaneo — which recently announced that it was working on a device that was a cross between the Blackberry and the Nintendo DS — took the wraps off the Ayaneo Flip DS a dual-screen variant of its Ayaneo Flip.
DOUBLE THE DISPLAYS
Ayaneo only teased new images of its dual-screen gaming handheld, but we already knew that the Ayaneo Flip would run AMD's Ryzen 7 7840U processor that's paired with Radeon 780M integrated graphics. The Ayaneo Flip DS' main screen will be seven inches and have a 120Hz refresh rate, as Ayaneo previously said.
We don't have any info on the specs for the bottom display yet, though. From the images, the secondary display looks much smaller than the main screen. Still, the Ayaneo Flip DS' primary display is a lot larger than the original Nintendo DS' three-inch design.
Other than that, Ayaneo hasn't revealed much, so no details on the price and release date.
COMING SOONER THAN YOU THINK
After the Nintendo DS and its successor, the 3DS, came and went, we haven't really seen anything similar with two screens since. It's safe to say that Nintendo made its mark with one of the best-selling gaming handhelds of all time. It's 2023, though, and about time we get a dual-screen gaming device with a better display and modern chipsets.
Ayaneo's CEO, Arthur Zhang, previously said the company plans on releasing the Ayaneo Flip and Ayaneo Slide by the end of the year. We don't know if this new Ayaneo Flip DS design update changes that timeline, but Ayaneo says we'll hear more about the specs soon.