Razer's Nommo V2 Pro Speakers Are About Vibes As Much As Sound
Now they have lights that adapt to what you're watching or playing.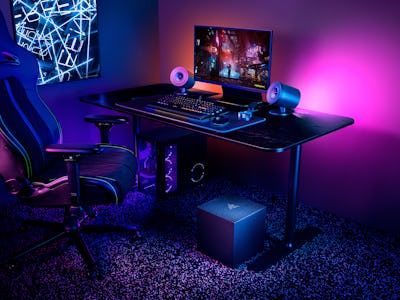 Razer
Razer defines itself as being "for gamers, by gamers," and there's no better representation of that than its rigorous (occasionally comical) commitment to RGB lighting. Thankfully, with the company's new Razer Nommo V2 speakers, that RGB obsession is being applied in a legitimately clever way.
The original Nommo desktop speakers launched in 2018 with a focus on "positional audio," and recently, the Leviathan V2 Pro introduced head tracking into the equation. The Nommo V2 (Pro, X, and just plain V2) is quite as high-tech. Still, it is offering not only better audio performance but also a way to have rear-projected RGB lights on the back of the speaker sync with what you're watching or playing on your computer — a first for Razer's desktop speakers.
Nommo V2, Pro, and X
Razer's designed its updated Nommo lineup of speakers to peak with the $449 Nommo V2 Pro and generally lose features as it descends in price to the $229 Nommo V2 and $129 Nommo V2 X. They still all look like big metal cylinders and cubes, it's just that the Pro and V2 versions come with subs and RGB backlights.
The Nommo V2 Pro comes in a package of wireless left and right speakers, a subwoofer, and a Razer Wireless Control Pod, which looks a bit like Microsoft's Surface Dial, and can be used to control audio — adjusting the volume with a spin — or be assigned to enable other shortcuts on your computer.
Razer says the Nommo V2 Pro supports THX Spatial Audio, with several games already having pre-made THX Game Profiles with "specially tuned EQs," thanks to Razer's support for the feature on its headphones. Oddly, only six titles will be optimized at launch, though, according to the company. Besides immersive sound, the Nommo V2 Pro should also just be plain loud. Razer said the speakers can reach a "max sound pressure level of 99dB," which is equivalent to "a train approaching a subway platform."
They'll also work with more than just your computer. Razer's made the Nommo V2 Pro compatible with mobile devices over Bluetooth, and for the first time, PlayStation consoles, capitalizing on the desktop console setup common among some PC gamers.
Chroma RGB
The standout feature of the Nommo V2 speakers is Razer's Chroma RGB, though, which is now projected from the rear of the speakers to light up the wall behind your computer with matching shades of color. Razer says the customizable lights can reach a peak of 94 lumens and are supported in over 200 games.
With a new "ambient awareness mode," the Nommo V2s can also match the color palette of whatever content is on your computer, whether it's a game or something you're streaming on Netflix. That way, you'll always have some kind of personalized lighting experience, even without official support.
While not revolutionary, rear-projected Chroma RGB does increase the value of the Nommo V2 speakers themselves in my book. You'd traditionally have to buy separate hardware for custom bias lighting; now, Razer is just bundling it in.
Price and Release Date
Razer is selling the Nommo V2 Pro (wireless, with subwoofer, RGB, and Control Pod) for $449.99. Meanwhile, the Razer Nommo V2 (wired, with subwoofer, and RGB) will cost $299.99, and the Razer Nommo V2 X (two wired speakers with physical controls) for $149.99. All three speaker sets will be available in June.
If you're interested in just Razer's Wireless Control Pod, you can scoop that up for $49.99 in August.