Amazon Fire Max 11 Review: The Most Basic 'Premium' Tablet
Amazon's biggest tablet yet is exactly what you expect it to be.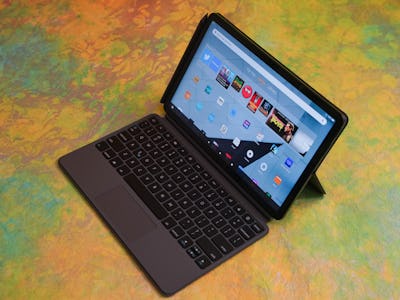 Photograph by Raymond Wong
Gear Reviews
We may receive a portion of sales if you purchase a product through a link in this article.
You get exactly what you pay for with Amazon's Fire Max 11.
The tablet is affordable (starting at $229.99 for the device only and $329.98 with a keyboard and stylus bundle) and the aluminum build quality is the nicest on any Amazon tablet. But in typical Amazon fashion, the software leaves a lot to be desired.
On the one hand, $329 with a keyboard and stylus is a ridiculously good value compared to a $449 10th-gen iPad or $479 OnePlus Pad, and accessories cost extra. On the other hand, unless the kind of work you do is really simple like email or lightly editing documents in Microsoft 365, you're going to find yourself realizing other tablets or a laptop are more versatile.
Solid Build Quality
Since the very original Kindle Fire tablet in 2011, Amazon has stuck to making its tablets cheap — dirt cheap. So cheap, they were once sold in a six-pack. With the Fire Max 11, Amazon still seems committed to affordability even with the upgrade to an aluminum construction.
Maybe a metal design is table stakes you say, but I've seen enough iPad knockoffs to know that not all aluminum tablets are equal. In the case of the Fire Max 11, everything feels sturdy with no flex anywhere. It's a thin (7.5mm) and light (420 grams) tablet that weighs less than a 10th-gen iPad, yet has a larger 11-inch touchscreen. The display is by no means as high resolution or as bright as the iPad, but you do get similar-sized bezels, and the 8-megapixel 1080p front-facing camera is thankfully positioned on the long side of the device. The 8-megapixel rear camera is also serviceable, but I'd save the task of capturing important memories for your phone.
The Fire Max 11 has a pair of Dolby Atmos speakers — and they're fine. They can get loud but don't expect the kind of thumpin' speakers you get from an iPad or a Bluetooth speaker. There's no headphone jack — every other Fire tablet has one, except the Fire Max 11. I know some people will bemoan the loss of the 3.5mm jack, but with wireless earbuds so cheap these days, it's not a big loss in my book.
Amazon claims the 2.2Ghz octa-core chip inside of the Fire Max 11 is "50 percent faster" than the Fire HD 10 Plus. I didn't have a Fire HD 10 Plus on hand to confirm this, but what I can say is the Fire Max 11 feels like a mid-range tablet. Not as responsive as an iPad and apps do take a few seconds to load. Again, for $230, it's no iPad performance — and nobody's expecting it to compete on power. The Fire Max 11 has a battery that lasts up to 14 hours, and I got in the ballpark of this, especially for watching video.
Worth noting are some of the bells and whistles that the Fire Max 11 has: a microSD card slot for expanding the internal storage (64GB or 128GB), a fingerprint sensor inside of the power button (it unlocks quickly), and Wi-Fi 6.
Software Needs A Refresh
I'll just come out and say it: the Fire Max 11's FireOS 8 software needs its iOS 7 moment. That is, Amazon needs to give the operating system, which is based on Android 11 (released in 2020) a reboot from top to bottom. As it stands, FireOS 8 looks and feels outdated. I get that Amazon wants to maintain consistency across its whole family of Fire tablets, but every time I look at the icons and navigation buttons, I can't help but feel like I've stepped into an old Radio Shack compared to the bright Apple Store that is iPadOS. Look no further than the fuzzy wallpapers and the lack of a swipe-based navigation system.
If you've used any Fire tablet before, Fire OS 8 on the Fire Max 11 will look familiar. It's really just a digital bookshelf for all of your content — your Kindle books, Prime videos, coin-infested "games," Amazon Music, etc. — especially stuff from Amazon's services. And that's fine if all you plan to do is watch stuff like The Mandalorian and The Crown or play Roblox and Subway Surfers. But it's also disappointing to see that Amazon has shown no interest in getting more developers to bring their apps to the Amazon Appstore. What you get as a result is a digital store that feels hollow.
Sure, there's Netflix, Disney+, TikTok, and Spotify, but there are still no Google apps. No Gmail, Google Maps, or a non-half-baked version of YouTube. Essential apps that I use for work such as Signal, Slack, and Feedly are nowhere to be found. You could "sideload" the Google Play Store and install these apps, but I doubt the average person who buys a Fire Max 11 is going to do this.
This lack of essential work apps in the Amazon Appstore limits the Fire Max 11's appeal as a productivity tablet. Kevin Keith, vice president of Amazon Devices, told me the whole reason they decided to do a larger tablet and keyboard and stylus accessories is because there's a trend that people want to do a little more work on their tablets.
For the most part, I think Amazon's made a solid keyboard and stylus. They're no Magic Keyboard and Apple Pencil combo or a Surface Type Cover and Surface Pen, but they work in a pinch. I like that the keyboard is more spacious than Apple's Magic Keyboard Folio for the 10th-gen iPad. The keys have good travel; there's a row of media keys (two of which are programmable) above the number row; the trackpad is kind of scratchy, though, which can make mousing around less enjoyable. And just like the Magic Keyboard Folio, the Fire Max 11 keyboard includes a kickstand that adjusts at many angles for that perfect "lapability."
But back to the software — it's visually and functionally outdated even with the keyboard attachment. The cursor is an arrow, which resembles what you get on Windows or macOS, but it looks strange on a tablet running mobile software. Apple got it right (and OnePlus smartly copied) going with a circular cursor that mimics a finger touchpoint.
There's nothing resembling an app windowing experience. Say what you want about Stage Manager on iPadOS, but it's at least an option (if you can get it work). The Fire Max 11 supports split screen apps, but running two apps side by side is anything but straightforward. Who knew you had to tap the app icon within recent apps view to activate it? (I had to Google it.) There's also no drag-and-drop between apps, which pretty much is the bare minimum for productivity on a tablet. There's picture-in-picture, but it along with split screen isn't new; they work the same on other Amazon Fire tablets.
Perhaps the most annoying thing is that it's hard to know which apps work with the keyboard. Text input fields are a given, but not all games and movies are. I was surprised to see Pac-Man 256 worked with the arrow keys.
How about just working within the Silk web browser? I tried and had to give up after a few hours. It's possible that working in Silk might be sufficient for your work, but not mine.
Should You Buy It?
My go-to tablet is an iPad. Any iPad. It's hard to beat the iPad on build quality and, most importantly, app support, and specifically tablet-optimized apps. I need my Google apps, Signal, Feedly, Lightroom, etc.
But I totally understand why so many people buy Amazon Fire tablets. The biggest reason is that they're cheap. If you've assessed that you can get by with the Fire Max 11 and the selection of apps in the Amazon Appstore, and don't mind the dated software, then, by all means, skip the iPad and get a Fire Max 11. There's no promise that the Fire Max 11 will have the kind of software longevity as an iPad, but it's about half the cost of a 10.9-inch iPad so you get what you pay for. I'd love to see Amazon update FireOS with the latest version of Android and the many new tablet features Google is pushing ahead of its own Pixel Tablet and Pixel Fold release.
Whether for yourself or for kids, it's hard to beat Amazon's tablets on pricing. There's no doubt that the Fire Max 11 is a solid value, especially if you want a keyboard or stylus to make emails or text input just a tiny bit easier and faster. Just make sure you've set your expectations low.