Amazon's Fire Max 11 Comes With a Keyboard and Stylus for Less Than an iPad
This could be the best tablet value of all time.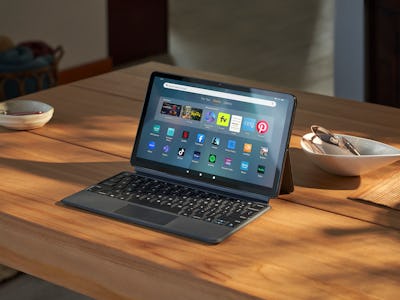 Amazon
Twelve years after Jeff Bezos unveiled the original Fire Tablet, Amazon is finally making a non-plastic version of its affordable tablets. Say hello to the aluminum Fire Max 11!
As suggested by its name, the Fire Max 11 is Amazon's largest tablet yet with an 11-inch display. Kevin Keith, vice president of Amazon Devices, tells me over Zoom that a shift to larger tablet displays is why the company is going bigger.
Starting at $229.99, the Fire Max 11 is priced very aggressively compared to an iPad or even the OnePlus Pad. Amazon's also selling a bundle with a keyboard/trackpad accessory and a stylus for $329.98. Both are well under the 10th-gen 10.9-inch iPad, which starts at $449 and doesn't come with any accessories. That pricing also comes with a catch...
50% Faster Than Fire HD 10 Plus
Just because the Fire Max 11 is inexpensive doesn't mean it's slow. Keith tells me the Fire Max 11 is "50 percent faster" than the Fire HD 10 Plus thanks to its more powerful 2.2GHz MediaTek chipset.
The 7.5mm aluminum body is a first for any Fire Tablet and the whole thing weighs just over a pound (420 grams). According to Amazon, the Fire Max 11's "alumino-silicate glass" is "3x as durable as the iPad 10.9" (10th generation)." I'm not going to be the guy on YouTube doing drop tests, but that sounds good to me.
You don't get a fancy OLED or mini-LED with deep blacks like you do on high-end iPads, but the 2,000 x 1,200 resolution on the 11-inch display should be plenty sharp. Battery life is up to 14 hours on a single charge and there's support for Wi-Fi 6.
Fire Max 11 Specs
Display: 11-inch LCD (2,000 x 1,200)
Chip: 2.2GHz MediaTek MT8188J
RAM/Storage: 4GB RAM + 64 or 128GB of storage (expandable via microSD to 1TB)
Battery: Up to 14 hours
Rear cameras: 8-megapixels
Front camera: 8-megapixels
Biometric: Fingerprint sensor
On the front and rear, there's an 8-megapixel camera for video calling. On the sides, there's a pair of Dolby Atmos speakers. Another first on a Fire Tablet: a fingerprint reader built into the power button.
My favorite feature is the expandable storage (up to 1TB via microSD card). 64GB or 128GB is already tons of storage for movies, TV, music, books, and games, but a microSD card slot in 2023? That is easily the most underrated feature on any tablet new or released in recent years. Do you know how cheap high-capacity microSD cards are now? You can get a 128GB card for $12.
Better for Productivity
The Fire Max 11 runs FireOS 8 which is a fork of Android 11. If you've used a Fire Tablet of any kind, you already know what to expect: It's a storefront for Amazon's entertainment content (Kindle ebooks, Prime movies and TV shows, Prime Music, etc.) and the Appstore still lacks much of what you'd find in the Google Play Store or Apple's App Store.
Still, the Fire Max 11 has Show Mode, which basically turns the tablet into an Echo Show smart display with a hands-free Alexa mode.
What sets the Fire Max 11 apart from the Fire HD 10 Plus is the optional keyboard and stylus that you can connect to it. The keyboard is a two-piece accessory that attaches to the Fire Max 11 via a set of pogo pins and magnets on the backside; one half is the keyboard and trackpad combo and the other is a kickstand that opens at different angles. The whole thing looks a lot like Apple's Magic Keyboard Folio for the 10th-gen iPad. The keyboard also has 15 pre-programmed shortcut buttons (above the number row) and two user-programmable ones; the trackpad supports gestures.
Over Zoom, Keith showed me how the Fire Max 11 could open two apps at once and the "Fire Max 11's MFA stylus pen" could be used to write directly into text fields with on-device handwriting recognition.
To drive home how the keyboard and stylus can be used for productivity, Keith told me Amazon is offering a three-month trial of Microsoft 365 Personal, which includes Word, PowerPoint, and Excel, and 1TB of cloud storage.
Price and Release Date
It's hard to look at the Fire Max 11 and not see value, value, value. Pre-orders for the Fire Max 11 start today with shipping on June 14. The Fire Max 11 starts at $229.99 for the 64GB model and $329.98 in a bundle with the keyboard and stylus.
The keyboard is $89.99 and the stylus is $39.99, sold separately. Don't want Amazon's official keyboard and stylus? You can pair any keyboard to the Fire Max 11 via Bluetooth or USB-C (with a USB cable), or use any USI 2.0-compatible stylus (with "limited functionality compared to Fire Max 11's MFA stylus pen").
Remember how I said earlier there's a catch? Well, the $229.99 and $329.98 pricing are with lock screen ads. Without lock screen ads, the 64GB model is $244.99. Users can always pay $15 to remove the lock screen ads after purchase. The 128GB version is $279.99 and comes standard without any lock screen ads.
Pricing for the bundles are as follows: $329.98 for 64GB storage with lock screen ads; $344.98 without lock screen ads. A bundle with 128GB comes without any lock screen ads for $379.98.