Garmin's new Vivomove Trend is a smartwatch that's designed to look dumb
The Vivomove Trend's watch hands will move out of the way when you start using the smarwatch's touchscreen.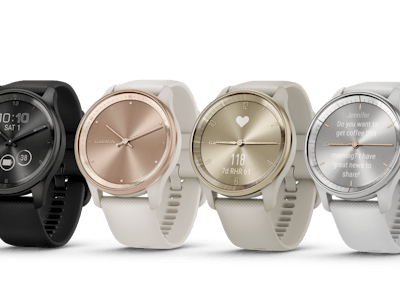 Garmin
Smartwatches don't always have to look smart. We can see that with Garmin's latest hybrid smartwatch, the Vivomove Trend. Like its siblings in the Vivomove lineup, the Trend was designed to look like a traditional analog watch that can transform into a smartwatch with a hidden display and watch hands that can move out of the way.
Garmin may be more known for its chunky and rugged smartwatches designed for the more outdoorsy demographic, but it has been expanding its more lifestyle-oriented offerings lately. With the entire Vivomove lineup, it's designed for those who want to stay on top of their fitness or health with a more discreet-looking accessory. With the Vivomove Trend, Garmin upholds that hybrid design that functions like a smartwatch loaded with trackers but looks like a minimalist wristwatch.
Smart when you need it to be — When it's sitting on your wrist not being used, the Vivomove Trend just looks like a standard wristwatch with real ticking watch hands. When you tap on the touchscreen or raise your wrist up, the watch hands move out of sight so you check in on texts, social media updates, or emails on the smartwatch display. We've already seen this design with the previous Vivomove hybrid smartwatches, but Garmin added some key upgrades with the Trend.
Like most other smartwatches on the market, Garmin finally added wireless charging through the Vivomove Trend. The hybrid smartwatch can charge through Qi-certified charging pads and has a battery life of up to five days in smartwatch mode. That battery life is not as impressive as some of Garmin's other solar-powered smartwatches, but it still beats out the Apple Watch and the Samsung Galaxy Watch 5.
Garmin also added its contactless payment system, Garmin Pay, to the Vivomove Trend. The hybrid smartwatch has all the tracking features we've come to expect from Garmin's products, including all-day stress tracking, sleep score, heart rate tracker, Garming's energy monitor called Body Battery, blood oxygen monitor, and pregnancy or menstrual cycle tracking.
Colorful customizations — Garmin is offering the Vivomove Trend in four colors — slate, cream gold, peach gold, and silver — but you can customize it with plenty of watch band colors that come in nylon, leather, suede, silicone, or metal. The Vivomove Trend is already available on Garmin's website and starts at $269.99.
The Vivomove Trend may seem like just a refresh for Garmin's hybrid smartwatch category, but the fact that there's wireless charging is a big deal. Now, we can only hope that Garmin will bring wireless charging to all of its future smartwatches.