Kojima Overdose leaks expose a surprising Death Stranding 2 connection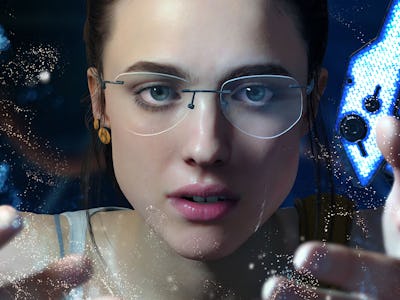 505 Games
Hideo Kojima is back to his old tricks if recent rumors are to be believed. Since the release of the acclaimed AAA walking simulator Death Stranding, there has been no official announcement of what Kojima Productions' next game will be. Recent leaks indicate that Kojima has something in the works with at least a working title of Overdose — it could even make an appearance at Summer Game Fest 2022 on June 9. But some of the supposed casting information indicates this mysterious project has a strong connection to Death Stranding. In fact, it may even be the codename for a direct sequel.
While the game is allegedly not connected to Death Stranding it would be foolish to take Kojima's words at face value. Metal Gear Solid V was famously announced as a game from developer Moby Dick Studios (who don't exist) under the title The Phantom Pain. Considering the story of Death Stranding as well as Kojima's love for subterfuge, there is likely more going on with Overdose.
What we know
The match that lit the now rampant theory-crafting going on across the internet started when journalist (?) Tom Henderson shared he had received leaked information on Kojima Productions' next game, allegedly titled Overdose. The original post describes the leaked footage showing "the character walking through dark corridors with a flashlight in third-person, but it's been suggested that the game can be played in first-person too. A jump scare at the end of the footage shows 'GAMEOVER' followed by 'A Hideo Kojima Game'… 'OVERDOSE'."
The character in question appears to be portrayed by Margaret Qualley. Those who played Death Stranding will know Qualley as the actress who played Mama. Henderson states that while the actor is the same, this is not a sequel to Death Stranding.
Sure, Jan.
Jump scares and dark corridors would mean that whatever Overdose actually is, it will be a horror game. Kojima fans have been eager for the creator to try his hand at horror in his post-Konami career. Before leaving the company, Kojima was working on a new entry in the Silent Hill franchise starring Norman Reedus. The game was announced through an elaborate demo titled P.T. that when completed, revealed Reedus and a title card for Silent Hills. That project never came to fruition, so Overdose being a horror title would be a welcome piece of information to many fans. Still, the claim that Overdose isn't connected to Death Stranding seems suspicious.
The evidence
Metal Gear Solid is the game that made Hideo Kojima a darling of the games industry. Beloved by both fans and critics for its mature storytelling, a sequel was much anticipated. The marketing campaign for Metal Gear Solid 2 gave fans what they wanted, showing the next story players would enjoy as Solid Snake.
This did not happen.
Instead, players took the role of newcomer Raiden. If MGS was the birth of Kojima as a gaming auteur, MGS2 was the birth of Kojima as a master of subterfuge and misdirection.
Also, consider that Norman Reedus let slip he was working on a Death Stranding sequel in an interview with Leo magazine in May. It is possible Kojima Productions has two projects in the works, but Kojima tends to work on one project at a time. If Overdose is connected to Death Stranding, it is a very real possibility that the game takes place in the same world with a different protagonist and/or even in a different time altogether. Mama and Sam Porter Bridges both survive the end of Death Stranding, so a sequel could take place after the original. In the same way that MGS2 switched out the protagonist for a new character, Overdose could focus on Mama.
An even wilder theory, but one that seems in no way impossible for a Kojima game, is that Overdose is set in an entirely different time period with different versions of the characters from Death Stranding. Extinction events in Death Stranding are said to be natural parts of a world controlled by entropy, or chaos. The goal of these events is to reset Earth and let life start over from the beginning. While Sam prevents the sixth extinction event, it is still part of the natural order and will eventually come. Overdose could occur in a post-sixth extinction world, which has had time to evolve back to the same relative point of evolution seen in Death Stranding.
With the potential of an official reveal from Kojima Productions at Summer Game Fest, fans might not have to wait long to get some more concrete information on whatever the studio has in store for players.