Everything we know about the Silent Hill 2 remake
From the studio behind The Medium.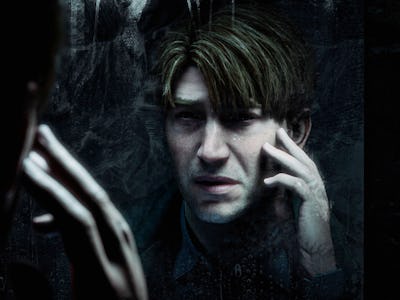 Konami
Finally, after years of rumors and speculation, Silent Hill is back in a major way. As part of the Silent Hill Transmission presentation, Konami announced several new entries in the series, including a remake of Silent Hill 2. The original game launched for PS2 in 2001, and is regarded as one of the best in the series, meaning the remake has huge shoes to fill. Based on the remake's unveiling, there's plenty to look forward to, especially now that the technology has allowed its developer to get closer to the original vision.
When is the Silent Hill 2 remake release window?
Unfortunately, Konami hasn't given any indication as to when Silent Hill 2 remake will launch. Given the current slate of Silent Hill projects, Konami likely wants to space things out over the course of the next few years. It's possible Silent Hill 2 remake will launch sometime in 2023, but at this point, its release window doesn't seem to be set in stone yet.
Is there a Silent Hill 2 remake trailer?
There is! It's a three-minute trailer that shows the remake's stunning new visuals, with an emphasis on the game's atmosphere and characters.
Who is the Silent Hill 2 remake developer?
As many of the reports indicated, Silent Hill 2 remake will be developed by Bloober Team, the studio behind The Medium, Layers of Fear, and Blair Witch.
Bloober Team CEO Piotr Babieno said the following:
In partnering together, Konami and Bloober Team will ensure that Silent Hill 2 shines once again to set new standards for the genre and deliver an unforgettable experience for the next generation of fans. With our work, we are determined to showcase that Bloober Team is climbing the heights of what's possible and aiming for the peak in game development. We can't wait for the moment when players will be able to see our work.
Bloober Team is experienced with making psychological horror games, as evidenced by its recent titles.
What are the Silent Hill 2 remake platforms?
Silent Hill 2 remake is a PS5 timed console exclusive, but will also come to PC. It's unclear when, and if, it'll come to other platforms. It will take advantage of the PS5 to implement specific features.
What are the Silent Hill 2 remake features?
Of course, Silent Hill 2 remake will benefit from new hardware, offering new visuals built specifically for the current generation. Bloober Team is using Unreal Engine 5 to bring this remake to life, particularly with its enhanced lighting system.
One major change is that Silent Hill 2 remake will shift to an over-the-shoulder perspective, which Bloober says adds to the immersion. The combat system has also been reworked, though it's unclear what it'll look like in action, specifically.
Silent Hill 2 remake will take advantage of the PS5's 3D audio capabilities, and will also incorporate haptic feedback and adaptive trigger support for the DualSense controller. Thanks to the PS5's SSD, the game won't have any loading screens, allowing the player to remain immersed throughout the experience. Bloober also promises more "new ideas," but is keeping them a surprise for now.
Silent Hill 2 remake is in development for PS5 and PC.
This article was originally published on